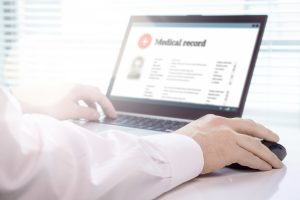 Healthcare providers are legally obligated to protect personal health information (PHI) with proper management and disposal of health records. Privacy standards set by HIPAA and HITECH enforce violations and penalties when proper procedures are not followed. 
Record Nations offers secure medical record scanning and medical record storage services to maintain compliance and protect PHI. We carefully handle your records throughout the scanning and storage process to ensure confidentiality. 
Preparing Medical Records for Scanning
Scanning converts your practice to a digital format. Digitizing your medical files has many benefits. It gives you the ability to integrate your files into an Electronic Health System (EHR); easily coordinates care between practices; and supports the use of e-forms. You will be able to easily maintain your files and remain in compliance with retention and privacy laws. 
Begin your medical record scanning project in 3 easy steps:
Call us at (804) 250-5348 or fill out the form

to request free price quotes from local providers

.

Include the number of records you would like to scan and the level of detail you want for each file. 

Glen Allen-based medical record scanning providers will contact you within minutes.  

Choose a provider that best fits your needs and begin scanning. 
Medical Records Storage Services
Medical records storage can be used alongside scanning services for files that cannot be digitized or need to be retained for backup. Offsite storage allows you to open up storage space in your office, while increasing protection for your documents. 
Record Nations keeps your medical records safe with climate control, 24/7 surveillance, and customized access. You will be able to retrieve your files as needed with digital and physical retrieval options available anytime. Cloud storage is also available for your data storage needs. 
Medical Records Custodian
If a Glen Allen healthcare facility closes, we recommend that a person or company is appointed as the custodian to manage the patient records. Each state has different rules and guidelines for how long a record needs to be stored. Virginia has a minimum requirement of 6 years. 
Custodians of medical records can store physical copies in a secure storage facility or scan the documents and store them electronically using an EMR system. With either option, patient records must be readily available upon request. Failure to produce forms could result in fines or penalties.
Record Nations can help you find a local provider to manage your records, release needed information and destroy the records after the retention period. 
Easily Manage Your Medical Records With Record Nations Today
Call us at (804) 250-5348 or fill out the form to inquire about medical records and storage services near you. Our knowledgeable representatives can answer your questions and connect your with local providers. 
Check out our articles sections, if you are interested in more resources on our medical industry services.
Record Nations Glen Allen Location
Record Nations Glen Allen
11357 Nuckols Rd
Glen Allen, VA 23059
(804) 250-5348
glen-allen@recordnations.com
Our operating hours are Monday-Friday from 8:30 AM to 6:30 PM and Saturday from 10:00 AM to 2:30 PM.
Record Nations proudly serves these cities near the Glen Allen area:
Ashland | Bon Air | Charlottesville | Chester | Colonial Heights | East Highland Park | Fredericksburg | Hanover | Highland Springs | Hopewell | Lakeside | Laurel | Mechanicsville | Petersburg | Richmond | Sandston | Tuckahoe | Williamsburg