Document Management in Honolulu
Document management is an important part of running a business. Organized files keep your business running smoothly and make it possible for your team to work efficiently. Record Nations Honolulu offers a wide-range of services to improve your document management process. 
Our services include document scanning, secure storage options, and reliable destruction services. We help you maintain retention schedules, control the flow of information, and better manage your library of business documents. 
Give us a call at (808) 376-2426 or fill out the form to build your custom document management system today. We will tailor our services to meet your exact needs and the requirements of your industry. Our expert partners are professional document management companies that will complete your project without delay. Improve workflow and organize your services. 
We look forward to working with the businesses in Honolulu and beyond.
Secure Document Scanning and Storage in Honolulu
Honolulu Document Scanning Services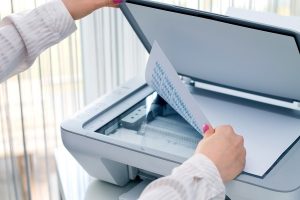 Professional scanning services help you make the transition to using digital files. Digital files are more efficient and easier to find. We include indexing and tagging to enable keyword search capabilities that will instantly pull up the documents you need.
Honolulu Document Storage Services
Physical document storage reduces clutter in the workplace by moving your bulky filing cabinets out of the office and into our secured facilities. We protect your documents from theft and the elements with 24/7 monitoring, climate control, and disaster protection. You will be able to set customized security for your files and access documents as needed.
Honolulu Document Destruction Services
Shredding and hard drive destruction services protect your information from being accessed, stolen, and misused. We use effective techniques to destroy physical documents, hard drives, and other media containing your digital files. Hard drive and paper shredding services are a secure and effective way to destroy confidential data.
Honolulu Medical Record Scanning and Medical Records Storage
Healthcare providers and related businesses are legally obligated to handle protected health information (PHI) with extra care. When PHI is not handled properly, providers face hefty fines and violations. Medical record scanning and medical record storage services ensure that PHI is handled correctly and in compliance with privacy regulations.
Honolulu Document Management Services
Document management system software (DMS) provides structured organization for your records. You will be able to control your documents, direct files, and regulate permission settings to stay in control of your valuable information.
Get Free, No-Obligation Quotes on Document Management Services Throughout Honolulu
Record Nations is an experienced document management provider. We have been in the industry for over 20 years and have used that time to improve our services to meet the demands of businesses today. We would be happy to serve your business with our reliable document management solutions. Please give us a call at (808) 376-2426 or fill out the form to get started right away.
Record Nations proudly serves these cities near the Honolulu area:
Aiea | Camp H M Smith | Ewa Beach | Fort Shafter | Jbphh | Kailua | Kaneohe | Kapolei | Mcbh Kaneohe Bay | Mililani | Pearl City | Tripler Army Medical Center | Waimanalo | Wake Island