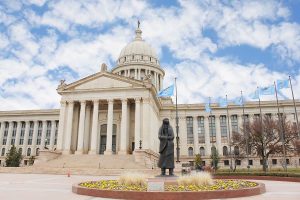 Finding the right provider for medical records scanning and medical records storage can be challenging. Strict regulations like HIPAA and HITECH must be followed to ensure the safety and security of your private health information.
Record Nations partners with providers that offer full-service scanning and storage options for medical practices. They follow all applicable privacy laws and maintain legal compliance at all times.
Preparing Medical Records for Scanning
Medical records scanning uses professional-grade scanners to create clear, consistent images of your files. Digital files make records management easier with quick accessibility and enhanced security. You will be able to transfer your files into an Electronic Health Record System (EHR) to seamlessly update and maintain patient care.
Get started by following these 3 simple steps:
Call us at (405) 708-7230 or fill out the form to request free, personalized quotes from scanning providers in the Oklahoma City area. Let us know the number of records you would like to scan and the level of detail you want for each file.
You will be contacted by multiple medical record scanning providers within just a few minutes.
Review the price options, choose a provider that best fits your needs, and begin your scanning project.
Medical Records Storage Services
Medical records storage services give you advanced protection from loss, theft, and damages. We have compliant digital and physical storage options available to meet your needs.
Cloud storage services offer flexible storage capacities and encryption. Physical storage facilities provide climate-controlled spaces with fire and flood-proofing.
Medical Records Custodian
Custodians of medical records can store physical copies in a secure storage facility or scan the documents and store them electronically using an EMR system. With either option, patient records must be readily available upon request. Failure to produce forms could result in fines or penalties.
Oklahoma requires medical records to be stored for at least 5 years. Using a medical custodian takes the liability off of you or your practice. Hiring a company to manage your facility's medical records ensures you will remain in compliance and your past patients will continue to receive care and support. 
Record Nations can help you find a local provider to manage your records, release needed information and destroy the records after the retention period. 
Contact Us For Medical Records Services Today
Join the thousands of companies we have serviced. Call us at (405) 708-7230 or fill out the form to get started today. Our reliable partners are standing by ready to help you.
Record Nations Oklahoma City Location
Record Nations Oklahoma City
3629 NW 50th St
Oklahoma City, OK 73112
(405) 708-7230
oklahoma-city@recordnations.com
Our hours of operation are Monday-Thursday 7:30am to 6:00pm and Friday 7:30am to 5:00pm
Record Nations is proud to service Oklahoma City and these nearby areas:
Arcadia | Bethany | Chickasha | Choctaw | Del City | Edmond | El Reno | Guthrie | Harrah | Jones | Lake Aluma | Luther | Midwest City | Moore | Mustang | Nicoma Park | Norman | Okarche | Shawnee | The Village | Valley Brook | War Acres | Yukon