Record scanning projects need to be done correctly right off the bat to be effective. A properly implemented scanning procedure can reorganize documents, establish a consistent file hierarchy system, and make filing and accessing documents quick and easy.
However, a poorly implemented scanning procedure can make a situation worse.
Instead of tackling a large scanning project internally, partner with our scanning professionals. They have years of knowledge in the scanning industry and know how to make projects run smoothly. Their equipment allows them to handle any size and type of job, and they will do it right the first time.
To be connected with our team of experts, call us at (405) 708-7230 or fill out the form on this page.
How Record Nations Oklahoma City's Document Scanning Services Work
The three pillars of a successful scanning project are quality, consistency, and accuracy. Our providers make those qualities their top goals when completing your project.
Whether you have a scanning project that will take weeks or months to fulfill, or just a onetime need, our partners can help. They can schedule services for your office as often as you need, and offer flexible options.
How Our Local Scanning Experts Can Help with Your Scanning Project
Double sided documents are scanned with ease—just tell us which side goes first
Our team preps your papers, removing clips, bindings, and staples
OCR services offer redaction and editable text
Flexible indexing allows for one long document or individually tagged pages
Your digital files can be delivered in whatever format you need
Custom requests are welcome—just tell us the details when you request a free quote
How Much Do Document Scanning Services in Oklahoma City Cost?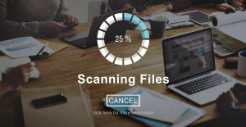 The average price to scan one page is 7-12 cents, but that price can vary based on how many pages you have to scan, where you are located, and whether or not you require any special or additional services.
There are many factors that will influence the price of your project, so we recommend you take the time to plan out exactly what you need. Then we suggest you get several quotes from different providers in your area to ensure you are getting the best price.
Because getting an accurate estimate can be difficult, we have created a list of factors to contemplate as you plan your scanning project.
Factors that Influence the Price of a Scanning Project
The date you need your project completed by
The number of pages you have to scan
The type of scanning you are looking for (OCR, redaction, indexed, non-indexed)
Your current systems, and whether your new files need to integrate or not
There is also the matter of handling your physical copies once they've been scanned. Some companies choose to keep the original document, while others are ready to trash them. Either way we will connect you to local storage and destruction companies for free.
Get Free Quotes on Document Scanning Services in Oklahoma County Today
Record Nations Oklahoma City is dedicated to making scanning projects simple. Because scanning old files can reduce long-term costs and increase overall productivity, we believe every business should have access to a reliable, affordable scanning option.
Call us today at (405) 708-7230 or fill out the form on this page and we will get you several free quotes from providers in your area. Make an informed decision and get ready to move forward with your scanning project!
Record Nations Oklahoma City Location
Record Nations Oklahoma City
3629 NW 50th St
Oklahoma City, OK 73112
(405) 708-7230
oklahoma-city@recordnations.com
Our hours of operation are Monday-Thursday 7:30am to 6:00pm and Friday 7:30am to 5:00pm
Record Nations is proud to service Oklahoma City and these nearby areas:
Arcadia | Bethany | Chickasha | Choctaw | Del City | Edmond | El Reno | Guthrie | Harrah | Jones | Lake Aluma | Luther | Midwest City | Moore | Mustang | Nicoma Park | Norman | Okarche | Shawnee | The Village | Valley Brook | War Acres | Yukon