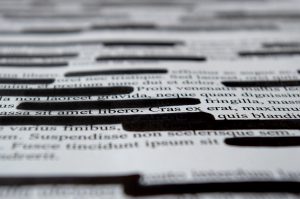 Document redaction blocks out personal and sensitive information within documents. The goal of redaction is to preserve confidentiality and support data anonymization. Redaction can help prevent data leaks, identity theft, and the misuse of information.
Businesses rely on redaction to protect their clients and keep certain information from the public eye. Our providers will securely handle your documents and accommodate your specific needs. We can complete high volumes of documents and provide a quick turnaround time if needed.
How Does Document Redaction Work?
Redaction cleans your documents of private information by removing text and images. This process is referred to as "document sanitization." Each document is reviewed using an automatic and manual process. It works like this:
Step One
Optical character recognition (OCR) software is used to convert electronic documents into text. The software finds patterns and private information including names, social security numbers, and requested data.
Step Two
One of our specialists will verify that the software converted and redacted the information accurately. The quality review ensures regulatory compliance and confidentiality.
Finding a Quality Document Redaction Service
Professionalism is critical in a document redaction service. You want to make sure that your information is handled carefully and correctly. Record Nations assists with the process of finding a quality redaction service by instantly matching you with verified providers in your area. We partner with experienced companies that are thorough, secure, and accurate.
Finding a reliable provider can be crucial to building trust with your clients, protecting your business, and maintaining confidentiality.
Get Free Quotes on Document Redaction Services Today
Record Nations is dedicated to privacy and security. We understand the needs of businesses and provide affordable solutions. Request free quotes on document redaction services by calling us at (866) 385-3706 or filling out the form. We will connect you with experts in the area that offer high-quality services and competitive price options.