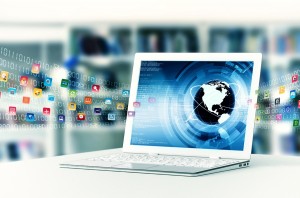 There are a lot of significant advantages to using a cloud-based service provider to store your documents or run your electronic document management system.
One of the major drawbacks is the strain every employee using that system has on your internal network. That's where a cloud-based service can really help out.
It gives you the ability to connect all your employees to a centralized system to share, store and manage your documents and office workflow.  To ensure that you're not introducing additional issues that cause problems, it's important to think about how this new system will affect your current internet access and internal network.
As you might have experienced on your home network, the more people and more data you use at a time will directly affect the speed and performance on any network.  Most companies have that taken care of with a massive server room to handle all aspects of the business.  Smaller companies might not have the ability (or cash flow) to purchase, install, and maintain a high-quality server onsite.
There are ways to figure out what systems aren't affected as much, and methods to determine what bandwith you might need to implement your system.  In the article Cloud computing: How to avoid a network bottleneck, there is a very good discussion on what affects bandwith and performance for cloud services.
Get Free Quotes on Cloud Storage and Online Data Backup Today!
If you're interested in learning more about cloud storage and cloud management systems, Record Nations can help!   Come see why we are the first choice for data backup solutions.
We work with a team of professionals that provide reliable online data backup solutions for your business. In addition to online backup services, we can help you convert your paper records to digital copies by scanning the documents for you. Our cloud storage services will keep your records safe and easy to access. Learn how our data backup solutions can help you today!