Paperless offices offer benefits including fractional file distribution costs, remote access, extra space in the office for more employees, and near-limitless file storage capacity—just to name a few.
Video Transcription
"Out of clutter, find simplicity."
—Albert Einstein
What are Paperless Offices?
Paperless offices work just like they sound—a workplace where the use of paper is eliminated or greatly reduced. By scanning files and using document management system software instead, companies save money by cutting out paper waste.
What Benefits Do Paperless Offices Offer?
The advantages to adopting an electronic document management system.
Benefits of a Paperless Office
Electronic distribution allows files to be accessed remotely and by multiple users—creating a more convenient system.
Electronic accessibility cuts file processing down by roughly 4 days—removing the need for mail, sign, & return correspondence.
Paperless reduces storage space requirements greatly—saving money on office real estate and clearing out room for more employees.
The Paperless Office in 4 Steps
Making the paperless transition for an entire company can seem an overwhelming, but at its core, it can be broken into as few as 4 steps:
Develop your plan for a paperless office, including picking the right DMS software and laying out your wants vs needs

Train employees on your new paperless process and ensure everyone will be making a smooth and simultaneous transition

Organize and categorize your existing records and prepare them for scanning

Enact your paperless plan and see the expenses fall from your budget by auditing and improve the process over time
Developing Your Paperless Plan
As you organize for the actual transition, it's important that you find the right document management system software to create a plan to best suit your needs.
| | |
| --- | --- |
| Needs | Wants |
| Auto file indexing and organization | Redaction software |
| Online accessibility | Mobile Accessibility |
| Unlimited users | OCR software |
| File encryption | Tiered user access controls |
| Electronic file distribution | Unlimited file storage |
Getting the Crew on Board
Once you've decided your organization is ready to take up a paperless initiative, there must be someone (maybe even you) to take the reins and lead the way for the rest of the employees you plan to make paperless.
Using reward initiatives to encourage engagement is a great strategy, but also highlight the benefits of how it helps them in their own work, how it improves managing data protection and compliance, and how paperless helps customer communication.
Organize the Paper You Plan to Make Paperless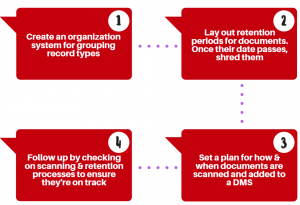 The Costs of Staying Paper-Based (and the Savings from Switching)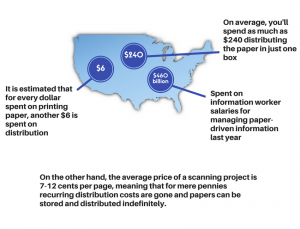 Ready to Reap the Benefits of a Paperless Office?
Get started on your transition with the help of scanning and DMS software options from Record Nations today!
To get your free, no-obligation quotes in just minutes, give us a call at (866) 385-3706 or fill out the form on the right.