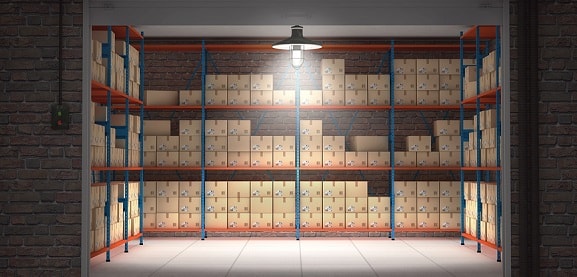 Without a well-planned records management program, your office can turn from an efficient and well-tuned machine to a headache-inducing pigsty before you know it.
Take a good look around your office. Would you say your surroundings look closer to what you see in Office A or Office B?

This isn't a trick question. You can easily guess by looking at the two pictures that one of the pictured offices is an unorganized mess while the other promotes a productive working space.
Messy Office = Less Productivity
Paper documents have long been the standard for data long before electronic files but the trend is starting to reverse. Nowadays, every business seems to be making the change to a "paperless office."
Offsite storage services help make this goal a reality by taking all your records, files, and documents to be stored in a secure storage facility. Filing cabinets and boxes of files can now be replaced with more working space to allow for more productivity.
What's Happening at Offsite Storage Facilities?
Offsite storage facilities pride themselves on the convenience of their service as well as their dedication to security. Some benefits to offsite storage include:
24 Hour Surveillance
You won't have to worry about the security of your documents with offsite storage. Guards (sometimes armed) monitor your documents at all times to make sure there are no data breaches or any mishandling of private documents.
Access to Documents When You Need Them
Even though you may put the majority of your documents into storage, you may require access to them every so often. Thanks to sophisticated tracking and tagging that's implemented, your papers can be found quickly and sent to you in a matter of days.
Climate Control
Offsite storage facilities are built with long-term storage in mind. In doing so, they have special climate controls that are designed to maximize the life of your papers and reduce any chances of premature degradation. The facilities also have strict building plans to minimize the chance of damages during natural disasters.
Onsite Shredding for Old and Unneeded Records
Record retention periods can be difficult to manage but offsite storage simplifies the process for you. Once your records reach their maximum required periods, they should be properly destroyed to eliminate any liability risks. Keeping documents that contain confidential information for longer than needed puts you at unnecessary risk.
Many offsite storage facilities perform shredding directly on-site or work with a specialized shredding service. By going straight from storage to shredding, the chain of custody is not violated and your records are never compromised.
Find Records Storage Services Near You with Record Nations
Record Nations works to find the right records storage service to fit your business needs. Whether you need a small number of boxes stored to make space in the office or require a high-level, secure storage facility with thousands of boxes, we can find the right provider for you.
To learn more about storage services or you're ready to get your free, no-obligation quotes, give us a call at (866) 385-3706 or fill out the form on the right.