Document scanning services help companies get organized. Professionals know the fastest ways to scan large volume and have the equipment to do it quickly.
Record Nations Alexandria partners with professionals across Alexandria to help local businesses stay organized. We are dedicated to helping you find a service match for a fair price.'
Each business needs their scanning project done a little differently. We encourage custom requests because it helps make the most efficient document management process for the future of your company.
To be connected to our team of experts, call us at (703) 584-7976 or fill out the form. We will get you free quotes on local services in no time.
How Record Nations Alexandria's Document Scanning Services Work
We recognize the three main pillars of a successful scanning project as quality, consistency, and accuracy. Our experts employ these basic techniques in every project they complete.
We will find a service match for you that is affordable and thorough. Whether you need ongoing services or a one-time scanning service, we will help you find the best scanner in town.
Here is How Our Professionals Can Help with Your Scanning Project:
They remove staples, bindings, and clips
They scan double-sided documents according to your instructions
They index your papers how you need them—as one long document or as individual pages
OCR services allow for redaction services and editable text
Digital copies of your files can be delivered in whatever format you need
Custom requests are encouraged—just tell us what you need when you request a free quote
How Much Do Document Scanning Services Cost in Alexandria?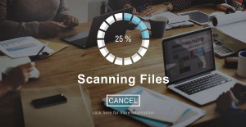 The price of your project depends on several factors. It costs on average 7-12 cents per page for scanning services, but that fluctuates based on where you live, how many pages you need to be scanned, and whether or not you require special services.
We will try to get you the most accurate estimates possible. In order to do so, we ask that you take time to think about exactly what services you will require. We also recommend getting several quotes from different providers so you know you are getting the best price possible.
To get the most accurate quote, there are several factors you should consider.
Factors that Influence the Price of Your Scanning Project:

The type of scanning you need (OCR, redaction, indexed, non-indexed)
The number of pages you have to scan
The date you need your project completed by
The systems you currently have, and whether you need your new files to integrate
Also, remember you will have to do something with your physical files once they've been scanned. We will connect you to either an offsite storage provider in your area or a secure destruction service provider.
Get Free, No Obligation Quotes on Document Scanning Services in Alexandria, VA
Using a professional service provider to help complete your scanning project is an excellent way to ensure your job is done right. Our experts have the tools and knowledge to make your record scanning project fast and easy.
Call Record Nations Alexandria at (703) 584-7976 or fill out the form on the right to get started. We will connect you to our experts and get you free quotes on their scanning services.
Record Nations Alexandria Location
Record Nations Alexandria
1945 Old Gallows Rd Ste 103
Vienna VA 22182
(703) 584-7976
alexandria@recordnations.com
Our normal hours of operation are Monday-Friday 9:00am to 5:00pm.
Record Nations proudly services Alexandria and these nearby cities:
Annandale | Arlington | Baltimore | Bethesda | Camp Springs | Centreville | Columbia | Fairfax | Falls Church | Franconia | Gaithersburg | Hillcrest Heights | Huntington | Hyattsville | Lincolina | Newington | Potomac | Reston | Rose Hill | Silver Spring | Springfield | Sterling | Temple Hills | Tysons | Upper Marlboro | Vienna | Waldorf | Washington DC | Woodbridge