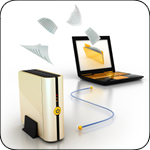 The importance of backing up data on your computer cannot be understated. Should something happen to the computer's hard drive, all data could be lost.
Depending on the damage, the data might not be recoverable – even if recovery is attempted by an expert. Regular back up is part of any computer maintenance protocol. Backing up regularly is part of any computer maintenance protocol. The store a copy offsite with a tape rotation service or stored online.
Whether the computer is used for personal or business applications, backing up is necessary and there are many formats to choose from to perform the action.
Internal Back Up
Nearly all computers have some form of internal backup. Microsoft products, for example, save "system restore" or "backup" files on a regular basis should something happen to the hard drive. The theory behind internal back up is that the data loss is not the result of an irreparable system failure.
In other words, the hard drive might crash but can be restored to functionality. Users relying on this form of back up run the risk of losing their data anyway, because there is no guarantee that a hard drive will be recoverable after a system crash.
External Back Up
Along with the computer's default internal back up, users should back their data up onto an external source regularly to ensure data integrity in the event of a catastrophic hard drive failure. There are numerous external sources users can back their data up to, and the source depends on the size of data to be saved.
Many users simply back their critical data up onto a "thumb drive." These memory sticks are also called "USB flash drives" and can be purchased in many different sizes. Users plug the thumb drive into the USB port on their computer and either run a backup program or manually save the files to the drive.
Another option is to purchase an external hard drive for the computer. These also come in various sizes and generally plug into the computer's USB port. External hard drives can be left plugged into the computer, with a regular back up scheduled per the user's preference.
When time, the scheduled back up will run in the background and the computer's data will be saved to the external hard drive. In the event of an internal hard drive failure, data can be retrieved from the external source.
Network or Online Back Up
In the event that a tremendous amount of data needs to be backed up, such as the backup required for a business computer or entire network of computers, a backup source capable of housing large quantities of data is required. In this case, thumb or external drives are generally not viable options due to cost and space restrictions.
For extensive data back-up, many IT professionals rely upon a separate network server or online cloud services. These options provide extensive storage space capable of handling large quantities of data.
A separate server works much like an external hard drive. This server is set aside to back up all computers on the network system. It usually runs a scheduled back up as part of an overall maintenance program. In most cases, computers on the network are backed up every night to ensure minimal loss of data in the event of network failure. Server sizes vary but are generally capable of handling the massive amounts of data a business would require stored.
Online cloud services are the newest form of computer back up technology and are popular with both business and personal applications. The server is offsite and secured, and users or company IT professionals save the data onto the offsite server on a regular basis. Should data recovery become a necessity, the data is retrieved from the offsite server and loaded back onto the local computer or network.
Get Free, No-Hassle Quotes on Records and Document Backup Today!
Record Nations provides document and data management services via a network of highly specialized partners nationwide. Backing up data is a critical step to protecting information from irreparable data loss. We have over 20 years of experience in document and data management services. If you would like a custom quote for your data backup or storage needs give us a call at (866) 385-3706 or fill out the form to the right.