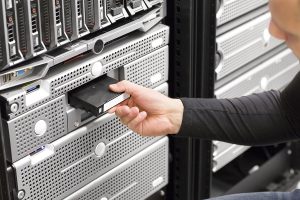 Magnetic tape is one of the easiest ways to back up individual workstations or small networks due to their high volume capacity for very affordable costs. A backup tape is also easier to store in off site facilities for enhanced security and protection against theft and natural disasters.
Smaller businesses may choose to store their tapes in a safe deposit box at a local bank, or even a fireproof vault in their own homes, however a safer solution for companies dealing with confidential information is to use off site backup services.
Storing one full set of data on site enables a company to recovery data immediately. Off site backup tape storage allows companies to retrieve lost data if anything happens to your on site computer systems.
Off Site Tape Storage Vaulting Defined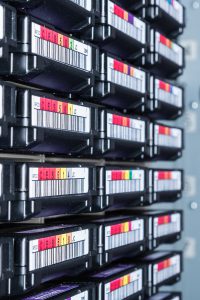 Off site tape storage vaulting is one of the best ways to protect your backup tapes from being compromised. Tape storage vaults are climate-controlled locations with very strict tolerances for temperature and humidity to prolong the life of your backup tapes.
Record Nations brings your business secure storage locations with fire protection and physical security to make sure that your information isn't compromised by fires or corporate spies.
What's the Benefit of Regular Tape Rotation?
Tape rotation ensures that your records are backed up when they need to be, and then rotated as frequently as you require. Some companies need to backup on a weekly basis, while others may do so every few months.
A secure, tape rotation service provides the following benefits:
Highly secure and easy-to-use facilities house your tapes off site
Tapes are picked up and dropped off in secure bins, ensuring chain of custody and minimize data breaches
Every backup tape is scanned for tracking with the entire process documented
Tapes are transported to the media vault facility in a secure vehicle for added security during transport
Most tape vaulting facilities offer emergency retrieval services to have access to your tapes as soon as possible
Get Free Quotes on Offsite Tape Storage, Vaulting & Rotation Today
At Record Nations, we take the hassle out of finding a tape vaulting service that fits with your company's operations. We will guide you to what works best for your business and put you in touch with secure local tape storage and vaulting experts.
To get started, fill out the form, give us a call at (866) 385-3706, or contact us directly using our live chat. If you'd like to learn more about tape vaulting and tape backup, visit our articles section.