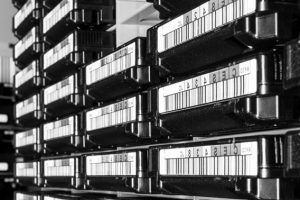 Backup tape rotation is a system used for backing up and storing digital data on the magnetic tape that's typically found in cartridges and cassettes. Considering its high volume capacity at a very affordable cost, magnetic tape is one of the best options for backing up individual workstations or small networks.
With a backup tape rotation scheme, the first step is setting up a tracking system for tape retention periods. Once those retention periods expire, the tapes are cycled and reused by performing a new backup with the most current data. Thus, starting the retention tracking over again. As a result, this minimizes the overall number of tapes needed for backups.
What are the Benefits of Regular Tape Rotation?
Tape rotation services ensure that your records are backed up on a regular schedule, and then rotated as frequently as you require. This makes sure that your backup tapes always contain the most up-to-date data. Depending on the amount of data you regularly produce, the rotation schedule can vary from weekly to monthly.
Besides helping you to always have an up-to-date backup of your data, backup tapes can also enjoy the benefit of greater protection against theft and natural disasters when stored at a backup tape vaulting facility.
A secure, tape rotation service provides the following benefits:
Highly secure and easy-to-use vaulting facilities to store your tapes off site
Tapes are picked up and dropped off in locking bins, ensuring a safe chain of custody and minimizing data breaches
Every backup tape is scanned for tracking with the entire process documented
Tapes are transported to the media vault facility in a secure vehicle for added security during transport
Most tape vaulting facilities offer emergency retrieval services, so you have access to your tapes as soon as possible
Get Free Quotes on Off Site Backup Tape Storage, Vaulting & Rotation Today
At Record Nations, we take the hassle out of finding a tape vaulting service that fits with your company's operations. We will guide you to what works best for your business and put you in touch with secure local tape storage and vaulting experts.
To get started, fill out the form, give us a call at (866) 385-3706, or contact us directly using our live chat. If you'd like to learn more about tape vaulting and tape backup, visit our articles section.