When running a home-based business, it is important to know how to store relevant documents for both longevity and ease of retrieval.
Know which records are essential to retain and come up with a strategy for storing them.
A small business owner should also take the disposal of such documents into consideration. There are certain guidelines to how long to retain records.
For example, while you can dispose of bank statements after one year, tax-related documents should be kept for at least seven years.
What Records Should A Home-Based Business Keep?
There are several records that a home-based business owner will probably want to keep, including:
Contracts
Invoices
Items kept for accounting and tax purposes
Receipts
Summaries and Billing for Marketing costs
Expense of rent and utilities
Client information.
These are very sensitive documents, so storing them securely is vital. All of this paperwork accumulates quickly and takes up valuable space.
The first thing to consider is where you will store business records. They should remain separate from your personal records.
Where should you store your Business' Documents?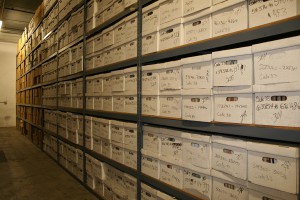 Most businesses require a dedicated space to be maintained, not just the office, but a place to store and file documents and records.
If possible, you may store relevant documents onsite in a room designated for that purpose.
This might be the easiest and best solution for a home business-but space in the home is often limited, leaving business owners with an issue of where to store documents that are critical to the business, but not used regularly.
When you're looking at options for storing records for your home office, keep both space and environmental conditions in mind.
The basement is probably the best option for most, but if it's prone to moisture or flooding, it might not be a surefire way to ensure your records are intact when you need them.
Another option is using a document storage service, which will store hard copies of paperwork in their secure facility. This means you will not have access to records in the middle of the night, but only during business hours.
Even though there is a cost for offsite document storage, it will save valuable space in your office and your home.
Storing files offsite can give you peace of mind by ensuring your business documents are secure and protected against a natural disaster that could affect your home.
If you aren't as concerned with security, there are other storage options available,  including standard storage facilities you can rent and access any time you choose.
Save Space and Time by Digitizing your Documents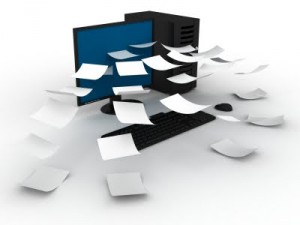 Digital imaging is another way to preserve business documents. This involves scanning documents, preserving them in a universal format such as PDF, and then saving them online to a cloud-storage business, or by transferring them to a CD, DVD, or an external hard drive.
Some document storage services do this in addition to retaining hard copies. They may even make everything accessible on a server for you.
If you have the time, you can do this by yourself- going paperless saves space and resources, and cloud storage services offer small business owners more flexibility when it comes to storing and accessing documents.
This also makes it possible to bring these records with you when you travel, as digital storage is a much smaller storage medium than paper.
Make sure you dispose of your documents appropriately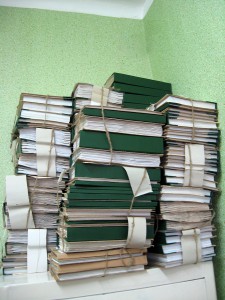 There comes a time when certain documents have exceeded their practical period of usefulness or have been converted into a digital record-keeping system, and it is time to dispose of them.
One way to dispose of documents is through shredding. The business owner can either purchase a paper shredder for this purpose or utilize a shredding service.
Paper shredders you can purchase range from small, personal shredders, to large, floor-standing models. Never throw away whole documents or place them in the recycling bin, as business records usually contain sensitive information.
This may not be just your information, but clients' as well. As a business owner, you have a responsibility to protect your clients' privacy.
The purpose of shredding these documents is to prevent others from stealing and misusing of personal information, including your own. Shredding protects this information and keeps it confidential.
If time is at a premium, there are document shredding services that will come to your home and shred your files while you watch. Others take the documents to their secure facility.
Before you choose a shredding service, ask them what to expect, how soon they will destroy your records, and how they dispose of the final waste product.
Do you Need Document Storage and Disposal for your Home Business?
Having plans for both storing and destroying documents in place will help keep your business running smoothly.
Record Nations has an expert in your area to help you with all your document management needs, regardless of whether you have records or documents that you need to scan or store.  We also offer document destruction services if you need to shred or destroy files.
If you have any questions, fill out the form to the right, or give us a call at (866) 385-3706. Within minutes of receiving your request, you will have free quotes from experts in your area that can help you.