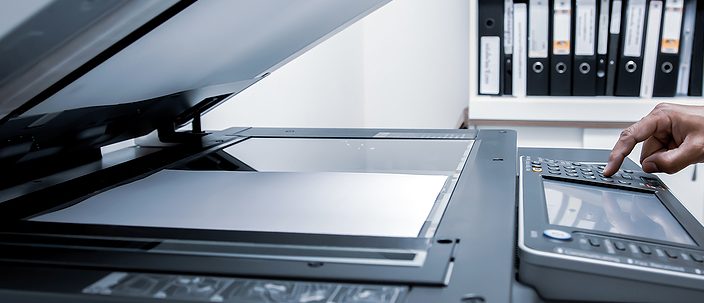 Businesses are constantly trying to streamline operations and productivity. One of the major ways to improve workflow and efficiency is through digital documentation. However, there are multiple ways to digitize a document, including scanning and imaging.
Having a digital document can improve workflow as well as accessibility. However, there is a difference between document scanning and document imaging.
To most people, scanning and imaging are interchangeable words, but they mean different things.  Both services digitize a document but what you can do afterwards is different.
What is Document Imaging
Document imaging takes a document and converts it into a digital image. This means the image is accessible, but the document cannot be manipulated or edited.
Essentially, image services creates an actual photo instead of a document. While you can still read and index the document, you cannot use Optical Character Recognition (OCR) to search the photos.
What is Document Scanning
Document scanning converts a paper document into a digital document. This document is editable and transferable. Additionally, this document is indexable for easier accessibility.
You use Optical Character Recognition for your documents as well. This allows you to manipulate and edit certain parts the document.
You can incorporate a document management system (DMS) to index and search for files. This is an easy way to manage your digital documents as well. Employees are able to access, edit, and transfer files seamlessly.
Benefits to Document Scanning Opposed to Imaging
There are multiple other benefits to document scanning, including:
Optical Character Recognition (OCR)
Optical character recognition (OCR) is the conversion of images of typed, handwritten, or printed text into machine-encoded text. This means the documents are searchable and easy to find.
The software analyzes the images and extracts the words of the text. You are then able to search for specific words/content, and it will pull up the correct documents. This increases business operations drastically as well as employee efficiency.

Document Redaction during Scanning
Document redaction simply means to remove text or images from a document. Many businesses use this because you can remove private information from a document. This eliminates the risk of identity theft from personal data on an electronic document.
Auto-Indexing and Searchability
Document indexing is the process of group or tagging documents with different searchable terms. These terms are created and defined by the company, and it can be used to group documents together for easier accessibility.
Document indexing eliminates file confusion and search frustration while creating a smart, easy way to locate files in seconds.
Do You Need Document Scanning or Imaging? We Can Help
Document imaging is handy if you need something quickly. However, it may be less useful in the long run because it's harder to index or find specific documents without a specific file naming system. Whereas, document scanning opens up many opportunities in the workplace as well as the home.
We can assist you through this process and help you determine which option is best for you. Start the process today of document conversion, and let Record Nations connect you with local providers that can help you with your scanning project.
To get started and receive a free quote, fill out the form to the right, use the live chat button, or give us a call at (866) 385-3706. Afterwards, you will receive personalized quotes from top professionals in your area.