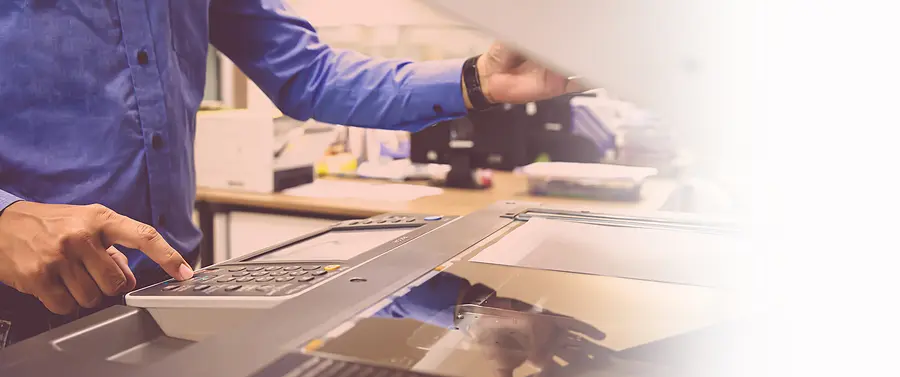 Records management is critical to the efficiency of your business. Today's world calls for instant access and remote capabilities. Organizations that still rely on outdated paper processes simply can't keep up. On top of falling behind the competition, paper files come with extra costs and are a headache to maintain. However, bulk document scanning provides a quick and efficient way to convert your business to the digital age.
Digital and cloud-based document management systems are affordable and effective. Digital storage is inexpensive, flexible, and accessible. Scanning quickly converts your paper documents into digital files that can be easily organized, shared, and edited. 
Why Bulk Document Scanning?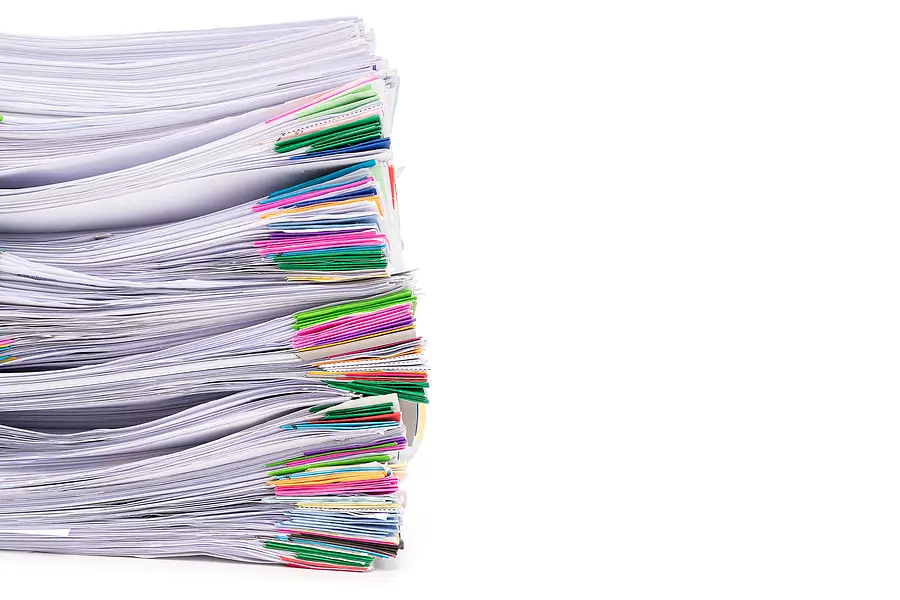 Bulk document scanning is a professional service that quickly converts large volumes of paper to a digital format. Scanning typically occurs in a specialized facility to accurately process your documents.  High-speed equipment captures your information at a rate of 100 to 200 pages per minute.
Digitizing your entire records library with a professional service takes very little time and produces high-quality results. Converting your documents allows you to move toward automation, reduce costs, and enhance your operational efficiency.
What Industries Need it the Most?
Bulk document scanning can be beneficial for any business or organization. It is a great option for industries that handle large amounts of information and operate under strict data retention requirements.
Industries and departments that may need bulk scanning:
How Do Bulk Scanning Services Work?
Professional scanning companies have the appropriate equipment and experience to complete your project with efficiency and accuracy. They handle all the logistics and ensure high-quality results. Here is how the process works:
Step 1: Begin by requesting free quotes from scanning providers near you. We will ask for some information including the types of records you will be scanning, their condition, the number of documents, and their sizes. We then create cost estimates based on your needs and provide details about your options.
Step 2: Depending on the service you have selected, you can schedule pick up for your documents or pack your documents for direct shipment. Some companies may also offer onsite scanning that will require setup at your location. Your documents will be inventoried, transported, and prepared for processing.
Step 3: To ensure a successful scan, each document is assessed for damage. We remove staples and paperclips, repair tears, and remove wrinkles to avoid jams in the scanner. Documents beyond repair are flagged and will need to be reviewed.
Step 4: Each document gets scanned and converted to a digital image. Every scan receives review for quality assurance, and re-scans occur if needed.
Step 5: Your documents are indexed to enable quick search capabilities. Manual indexing or OCR (Optical Character Recognition) is available depending on the level of indexing you need. Manual indexing uses key identifiers, while OCR converts all text into searchable text.
Step 6: You receive your scanned documents in the agreed-upon format.  The provider then ships the original files back to you, archives them in storage, or shreds them.
What Are the Benefits of Bulk Document Scanning?
Paper is slow, messy, and inefficient. Bulk document scanning quickly converts your business to a digital system that can benefit your business immensely. Here is how bulk scanning can give your company an advantage over the competition: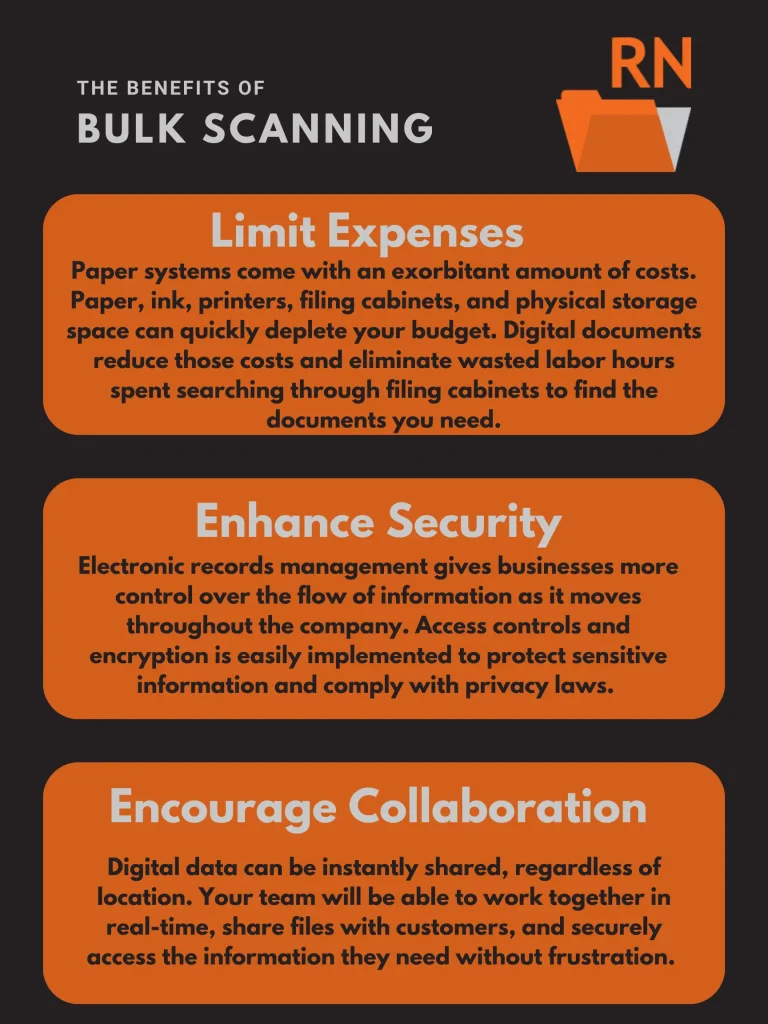 Make Your Business More Efficient with Record Nations
Bulk scanning is the most affordable and easy way to convert your business to a digital system. Record Nations partners with reliable scanning companies across the country to make our services accessible to any organization. You can save money and better organize your business with our bulk scanning services today. Call us at (866) 385-3706 or fill out the form to receive free quotes within minutes.