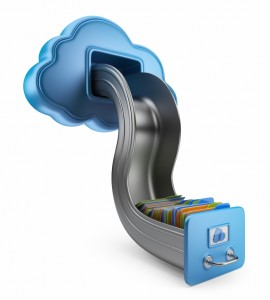 Digital record management should be a huge part of your document management plan.
We say this for a lot of reasons, but with the increased usage of computers and other devices in businesses worldwide, if you're not pushing the envelope you're falling behind.
Cloud-based record management isn't 'new' technology- companies have been using in-house servers in similar ways for decades.  With the increased capacity and security of cloud services, it's becoming cost-effective to migrate to the cloud.
One of the biggest advantages is for your employees.  With the ever-increasing need for immediate access and fast turnaround times, cloud storage gives your employees access to information, files, records and contracts instantly.  Whether they work from home or are on the road, you never have to worry about leaving an important file.
We get a lot of questions about the security of cloud storage- if it's so easy to access, isn't it just as easy to compromise that information? We talk about it more here, but if you select the right cloud storage for the level of security you need (or want) to have, the only thing that will create a problem is the human factor (unsecured passwords, unsecured workstations, stolen or shared passwords, etc).  Every cloud-based storage system- even the free ones- should encrypt the data that you're uploading, downloading, or storing online.
That isn't to say that everything should be stored on the cloud.  Health records, medical research, and other highly regulated documents should be stored securely, and most likely not virtually- but any things that you need to access regularly or are necessary for your day to day workflow should also be stored outside of the cloud just in case a server goes down.
Get Free Quotes on Cloud Storage Solutions Today!
Record Nations can help you find the right cloud computing solution for your business.  From online data backup services to cloud storage, we're the first choice for your business when it comes to helping you choose your cloud storage.
We have a network cloud storage and service professionals that provide reliable secure solutions for your business.  Our experts can help connect you with cloud storage professionals that will walk you through the tedious process of selecting the right service.  Our cloud storage services will keep your records safe and easy to access.
To get started, fill out the form to the right, or give our experts a call at (866) 385-3706. Our team will help you find the right paperless solution for your business.