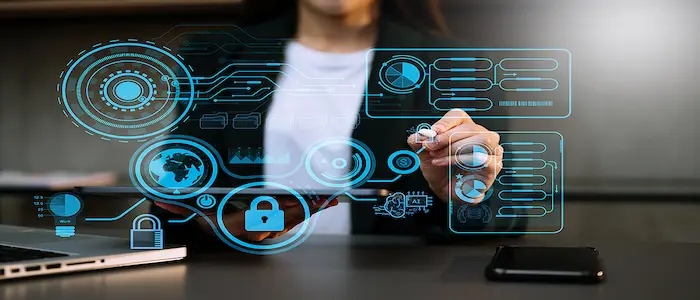 Data protection ensures that you take the appropriate precautions to keep data safe while maintaining availability for its users. As cybercrime evolves and data breaches increase, data protection can be a challenge. Having a solid data protection strategy in place will help your business standardize data security and prevent unauthorized access to private information.
Data protection is not only required by law, it is essential to safely conduct business of all kinds. Failure to protect private data threatens the economic well-being of your business, can ruin your reputation, and make you liable for noncompliance violations.
What is a Data Protection Strategy?
A data protection strategy is a multi-step plan that identifies how security measures will be implemented to minimize data damage, loss, and theft. The purpose is to identify the actions needed to secure business-critical and regulated data. The three main areas of focus should be data security, data availability, and access control.
The Essential Components of a Data Protection Strategy
When you begin to build a data protection strategy, you will need to identify the goal of your strategy and the steps needed to meet that outcome. Your strategy should align with the business processes you perform within your organization. Then, you will need to identify the essential components that will factor into your strategy. Here are the essential components: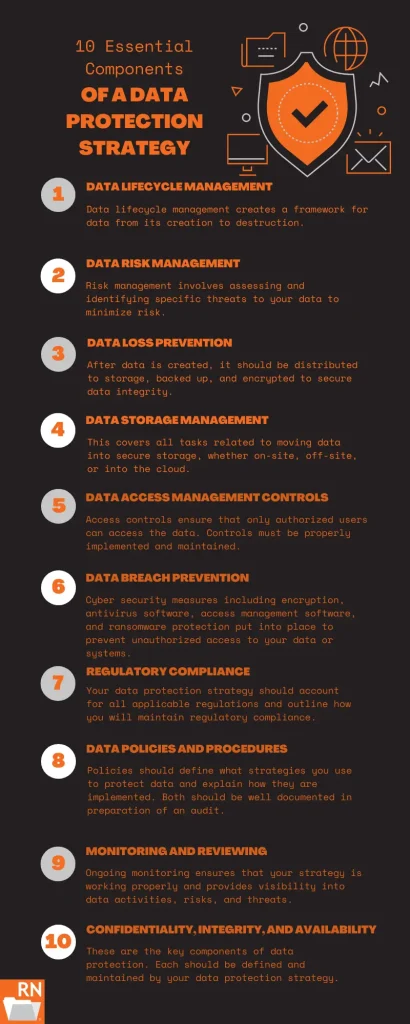 Data lifecycle management: Data lifecycle management creates a framework for data from its creation to destruction.
Data risk management: Risk management involves assessing and identifying specific threats to your data to minimize risk.
Data loss prevention: After data is created, it should be distributed to storage, backed up, and encrypted to secure data integrity.
Data storage management: This covers all tasks related to moving data into secure storage, whether on-site, off-site, or into the cloud.
Data access management controls: Access controls ensure that only authorized users can access the data. Controls must be properly implemented and maintained.
Data breach prevention: Cyber security measures including encryption, antivirus software, access management software, and ransomware protection put into place to prevent unauthorized access to your data or systems.
Regulatory compliance: Your data protection strategy should account for all applicable regulations and outline how you will maintain regulatory compliance.
Data policies and procedures: Policies should define what strategies you use to protect data and explain how they are implemented. Both should be well documented in preparation of an audit.
Monitoring and reviewing: Ongoing monitoring ensures that your strategy is working properly and provides visibility into data activities, risks, and threats.
Confidentiality, integrity, and availability: These are the key components of data protection. Each should be defined and maintained by your data protection strategy.
After establishing a strategy, you can continue to develop and implement it based on your company's needs. Your strategy should guide your business operations and keep your data secure.
Why is a Data Protection Strategy Important?
It is important to have a data protection strategy to mitigate risk and meet legal obligations. It takes deliberate planning and execution to put into place but will have significant benefits for your organization.
Here are some of the ways a data protection strategy will help your business: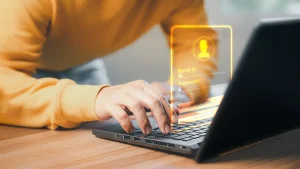 Risk Mitigation
When processing large amounts of data, there are always risks. Identifying and assessing the risks to your data will minimize their occurrence and mitigate the severity of events if they do occur. Encryption, multi-level protections, backups, and limited access are all forms of risk mitigation that should be considered.
Legal Compliance
Data protection laws exist on different levels based on your industry. Considering your legal obligations when creating a data protection strategy will help you maintain compliance.
Building Trust
Customers appreciate transparency when it comes to data protection. Showing how you safeguard data and providing customers access to and control over their data builds trust.
Save Money
It is no secret that a data breach can cost a company millions. A data protection strategy helps prevent a breach from happening, avoiding monetary losses. An effective strategy can also cut costs on storage, bandwidth, and other operational costs in the long run.
Protect Your Data with Record Nations Today
Data protection requires secure storage services and effective document management. Record Nations offers reliable data storage options with protected access and high security. Learn more about our options by calling (866) 385-3706 or filling out the form. We will connect you with local document management providers and send you free quotes on available services.