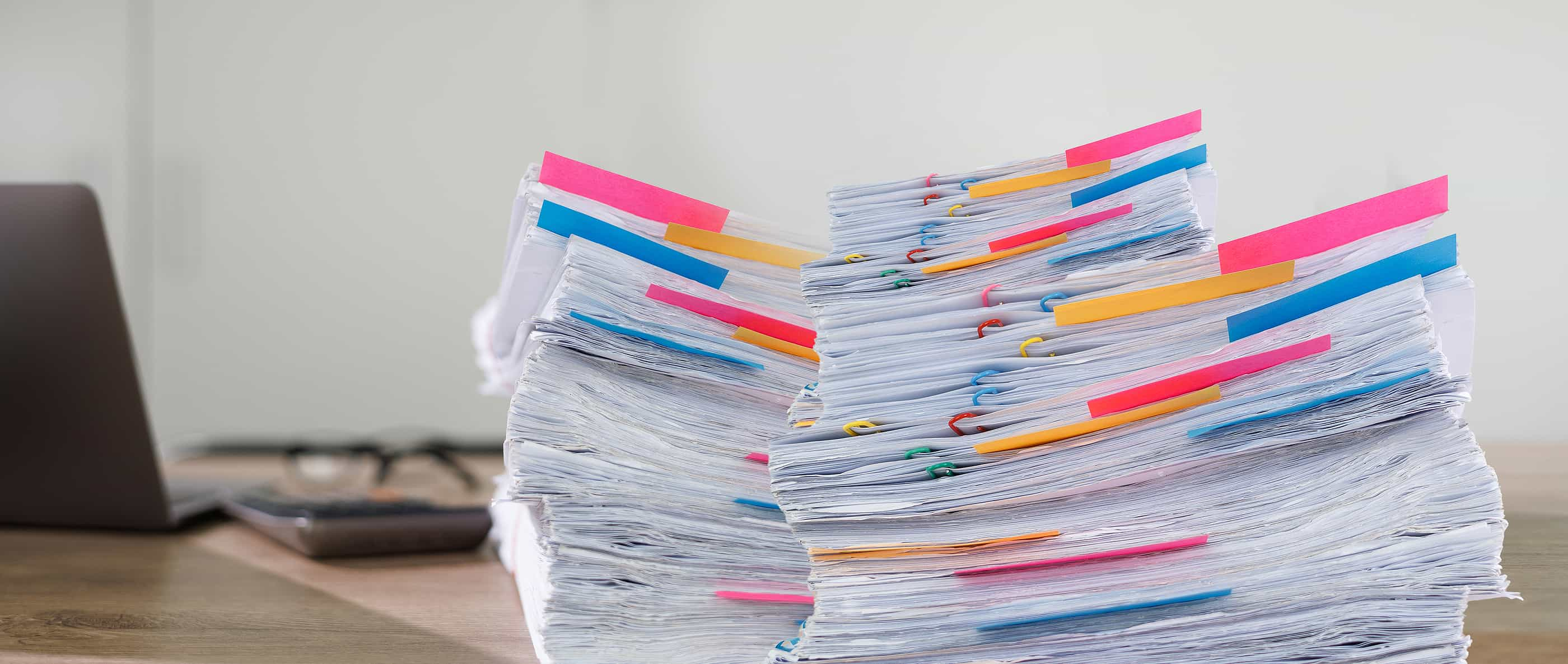 Companies of all sizes are creating and managing an ever-increasing amount of data, and selecting the right document storage system is crucial to effectively storing and protecting that data. Records storage systems break down into two broad categories, digital and physical. Physical document storage systems were previously the standard. For many small businesses and contractors, this method remains a popular and effective method in maintaining their records. 
While digital record management systems are no longer new as a concept, the variety and scale of their offerings continue to grow. As businesses large and small digitize their own operations, these systems continue to increase in popularity. 
When trying to figure out which system is right for your business, it might seem like there are too many options to choose from. However, there's an easy way to narrow down those options. It starts with determining whether a physical, digital, or hybrid storage system fits your business best. 
The Pros and Cons of Physical Document Storage 
Sometimes, there's nothing wrong with being old-fashioned. Physical document storage systems have existed for as long as there has been paper to store. While these systems can take up a lot of space, which can be solved by going offsite, they do present clear benefits. 
Pros 
Security –

Data breaches

occur at a frightening rate.

Physical documents are not vulnerable to cyber-criminals, and for particularly sensitive documents, keeping them in the physical realm can ensure their safety. If your company deals with this type of information regularly, a secure offsite facility could make the most sense.
Legal Documentation –

There are still many industries where physical documentation is a legal requirement. If your business deals with these requirements regularly, investing in a physical record storage system is a prudent decision. 

Reliability –

 Physical paper documentation remains one of the most reliable ways to store information. An actual physical copy can't be altered without evidence. Digital documents carry a risk of being wiped or corrupted if a server goes down. Natural disasters, such as floods or fires, can destroy documents, but most offsite storage providers protect against these risks. 
Cons 
Storage Space –

 Documents take up space. As companies look to maximize the value of their office space, finding room to store reams of paper can be difficult. Moving to an offsite storage space can mitigate this.

Lack of Scalability –

Data and information are created at lightning speed in the modern business world. There is no indication that this pace is going to slow down. For companies that produce significant amounts of data and information on a day-to-day basis, it might be impossible to find a physical document management solution that can scale.

Accessibility –

Many offsite or well-managed on-site document storage systems are well-indexed and easy to navigate. However, they simply can't compete with the instant accessibility of a well-organized digital document storage system. 
The Pros and Cons of Digital Document Storage 
While digital document storage is the new kid on the block, it has scaled rapidly in recent decades. Companies of all sizes and industries use digital document storage systems, and there's no doubt that these technologies will only grow and improve as our personal and professional lives become more digital. The benefits provided by these systems prompt many businesses to make the switch, but there are a few drawbacks. 
Pros 
(Nearly) Limitless Space – Whether on the cloud, an internal server, or on hardware, companies can store as much data as they can create. Physical documents that previously would have taken an entire office to store can now be stored digitally on a server smaller than the size of a cubicle.
Cost –

Property and real estate are expensive, and largely only getting more so. However, space on the cloud and online is only getting cheaper. Technology continues to improve, and with those improvements come reduced costs for storage space. 

Accessibility – Digital storage systems, when indexed and maintained properly, provide instant access to data and information. In addition, they

enable employees to access information across business locations

, or in the case of remote work, from the comfort of their home office. 
Cons 
Security – While nearly every digital document storage system contains encryption and security measures, it is undeniable that the information is at more risk than a physical document under lock and key. Data breaches do happen, but you can minimize the risk if you focus proper attention on data protection practices. 
Adaptation –

Not everyone is a fan of the digital world. Some customers and employees might be more comfortable with paper records and documentation or might be skeptical of their reliability. In these cases, offering a paper option, or using a hybrid storage system, can bridge the gap. 

IT Knowledge –

Similar to the accessibility issue, some employees, customers, or clients, may have issues accessing the system. In addition, effectively managing these systems requires a professional, or team, with IT experience. For companies concerned about the cost, a more affordable solution is outsourcing the work to an experienced provider. 
Record Nations Will Help You Find the Best Document Storage System for Your Business
The decision ultimately comes down to a combination of security, affordability, and ease of access. For companies with a high volume of data and documents that aren't sensitive, a cloud storage system fits perfectly. For businesses situated in a highly sensitive environment, like healthcare, financial services, or government, maintaining paper storage would work better. 
However, there is a compromise option for companies that deal with both. Hybrid record management combines the best of both worlds. You can store sensitive or confidential data in a secure location. You can keep documents that are not security risks on a digital system, where they will be more accessible and won't cause clutter. 
No matter which record system you're looking for, Record Nations is here to help. We're happy to provide you with the option that fits your company best. If you still have questions, we're happy to help answer those as well. You can give us a call at (866) 385-3706, use the live chat, or fill out the form, and one of our qualified agents will match you with a solution that fits your business needs.