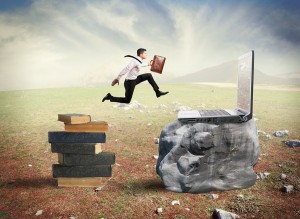 Many businesses today are reaching the point of deciding if they need to make a technological leap of faith and scan all their paper records to implement an electronic document management system.
Despite this, one problem these businesses are finding along the way is that to convert a company inventory of files—especially for a large business—requires quite a large chunk of time invested, which can get in the way of more important business priorities like generating a profit.  
To provide a solution to this issue, Record Nations provides day-forward scanning services, which offer a perfect way to make the transition to an electronic document management system a seamless one. Here, we go farther in-depth into day-forward scanning services, breaking down just how our process works, and how day-forward scanning can help to benefit your business.
A Smoother Digital Transition With Day-Forward Scanning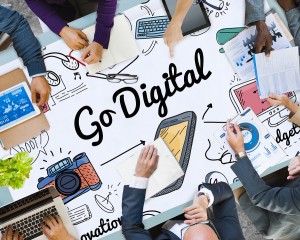 When your business still operates using a paper-based record management system, the time it takes to track down and retrieve a single record during the course of daily business can seem unnecessarily long.
On top of this, if you were to suddenly drop everything for a day, week, or month just to scan and convert all your company documents into an electronic format—even if it will vastly improve your work efficiency—your business would be even further pressed for time.
This is where day-forward scanning services come into play. At a fundamental level, day-forward scanning provides businesses a better way to bridge the gap between traditional paper-based records and more modern electronic document management systems (EDMS), but without the need to put your core business goals on the back burner during the conversion process.
The day-forward scanning process is easy:
Your business picks a date in the near future where you will no longer keep paper files.
From that point on, all new company records will be scanned, stored, and managed digitally using an electronic document management system.
With your new EDMS, all your records will be indexed after storage, helping to speed up the retrieval time for records, improve your office efficiency, and decrease the cost of otherwise storing paper files in your office.
Without the delay of the document scanning and conversion process for the entire record inventory, businesses are able to remain operating at full efficiency. This allows them to go back later on and use document scanning services to convert and add older documents to the EDMS as time permits.
Once you begin building an indexed electronic document management system with day-forward scanning, you are on your way to turning that expensive office space consumed by paper files into revenue-producing real estate with the help of a time and cost-efficient method of managing your records.
Benefit Business With a Record Management System Powered by Day-Forward Scanning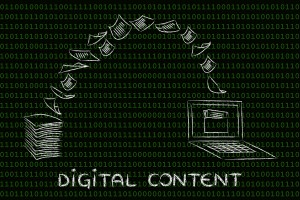 Document storage and record management are critical aspects of every business, and yet can be very costly depending on your strategy and approach.
With day-forward document scanning services however, a business is able to make their information accessible and useful to every employee—and without the costs and time associated with storing and locating paper documents or organizing a large-scale scanning project.
Among others, here are just a few of the top benefits day-forward scanning provides:
Near-instant record retrieval times.
Save valuable floor space otherwise devoted to file storage for more profitable purposes.
Improved security using access passwords, encrypted data, and offsite record storage options with security features like alarms and video surveillance.
Disaster recovery and data backup options in case of flooding, fire, or environmental hazard.
Enhanced work efficiency and productivity with improved collaboration and access to electronic records.
We offer a full-service document scanning and record storage experience to help businesses maintain and manage their records. Record Nations is able to handle all post-production work such as optical character recognition (OCR) conversions, and even offers document redaction services for private documents as well.
Get Free, No-Obligation Quotes on Day-Forward Scanning Services for Your Business
With day-forward scanning services, businesses have a unique opportunity to create a seamless transition between their older paper files and streamlined electronic document management systems.
At Record Nations, we strive to provide all the record storage and scanning services your business requires to make managing your documents as simple a process as possible. With our nationwide network of record service contractors, we're confident we can connect you with the right services to meet the needs of your business.
To get started with scheduling the initial date of your day-forward document scanning program, simply give us a call at (866) 385-3706, or just fill out the form to your right to request free quotes on day-forward scanning today!
Additional Document Scanning Resources
Every well-managed business begins with a well-organized and maintained record management system. Use this collection of articles and in-depth white paper to help find ways to optimize your business's record management system to best suit your needs.
Document scanning services are changing the way businesses manage their files—making them easier to modify, share, and distribute throughout your organization. With this white paper and other additional resources, you can find the information you need to price and plan out your upcoming scanning project.
The modern business faces new challenges when it comes to protecting their data and preventing data breaches using hard-copy and digital document management strategies. This in-depth white paper and supplemental articles help to outline a company's record management options, the best practices for maintaining security, and more.