Converting to digital documents is very beneficial for anyone who handles many documents, collaborates with others, or works from many locations. The uses of scanning services vary according to each industry's specific needs and requirements.
Therefore, a tailored electronic document management system allows these specific needs to be met. Here, we explain some of the advantages of document scanning services for each of the major industries that use professional scanning services.
Medical Practices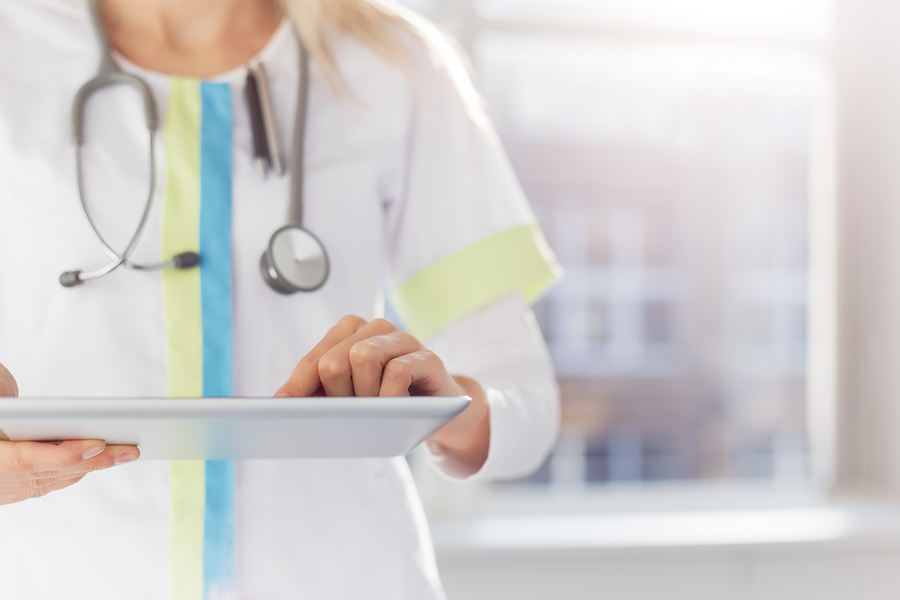 There has been a huge push for medical practices to convert to electronic systems with the passing of The Health Information Technology for Economic and Clinical Health Act (HITECH). HITECH was passed in 2009 to expand the security requirements for medical records. Another goal of the act was to incentivize medical practices to scan medical records to electronic health records (EHRs).
Electronic Health Records
Electronic Health Records (EHRs) means the patient's paper chart has been converted to an electronic version. EHRs are real-time, patient records that make information available instantly and securely. Furthermore, digital health records are one of the most reliable ways to get accurate patient information quickly.
With EHRs comes the opportunity for patients to receive improved coordinated care from providers and easier access to health information. It also gives doctors the chance to be more focused on the patient and spend less time taking notes. Watch this video to see how record scanning can positively impact your practice.
Important Items to Include in Every EMR:
Growth Charts for Pediatric Patients
Key Patient Demographic Data
Problem Lists
Historical Procedures
Immunizations
Allergies
Current Medications
Legal Documents
Medical Device or Implant Information
Legal Firms
With the amount of paperwork used in just one court case or lawsuit, it's no wonder that legal firms have multiple uses for scanning. Document scanning allows lawyers and people in the legal industry to have access to all documents regarding a particular topic or case.
Having digital documents also allows for a clear and uniform way of organizing the records. OCR scanning is especially useful in the legal industry for redaction purposes on case files and other necessary documents.
Typical Legal Documents to Scan:
Contracts
Legal Billing
Client Accounting
Expense and Time Tracking
Will Documents
Deeds
Various Types of Court Documents
Trusts
Accounting Firms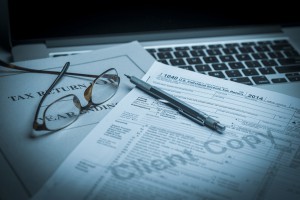 Maintaining client files can become costly and is not an expense that is easily passed on. By moving records to a digital system, they can be quickly found in the event of an audit.
Some companies keep good financial records, and some do not.  The bad ones require their accountants to fill the gap, by extracting the essential information from an unstructured collection of paper documents.  Document scanning makes this more efficient, and helps ease the annual year-end rush.
Professional scanning services can turn that box of receipts and invoices into structured electronic documents, which are easy to search.  Entering information into Sage or any other program becomes a quick cut & paste. This is faster and more accurate than manual re-entry of the data.
Typical Accounting Documents to be Scanned:
Audit Worksheets
IRS Tax Forms
Evidential Documents
Proxy Statements
Correspondence
Source Documents
Advisory Letters
Invoices
Receipts
Architecture Firms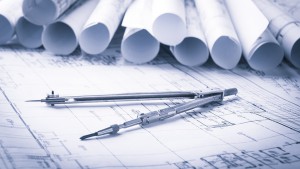 We provide engineering, construction, and architectural large format and blueprint conversion services that enable professionals to successfully share the information contained in their drawings. The benefits gained from our large format scanning services result in increased productivity, collaboration, performance, and profits. In addition, our clients see tangible benefits that reduce their total drawing management expense, while increasing profits by optimizing their business processes.
Large format scanners can handle engineering drawings and blueprints. Now, plans are available at the palm of your hand and are easy to find without maintaining a hard copy library.
Architecture Documents to Digitize:
Engineering Drawings
Architectural Renderings
Circuit Diagrams
Any Business Records (safety sheets, training records, etc.)
Government Offices
Government offices have some of the biggest collections of documents. Usually, these documents have very strict retention policies. This requires government agencies to hold onto the documents for a long period of time. Electronic data never deteriorates over time. Therefore, scanning reduces the costs of records storage and the need to lease additional space for records that need to be stored indefinitely through scanning.
Some of the Government-Stored Documents That Can be Scanned Include:
Vital Records
Social Service Records
Children & Families Records
Land Records
Maps
GIS Mapping
Business Records
Trade Names
License & Permits
Tax Records
Liens
The Advantages of Scanning For Any Industry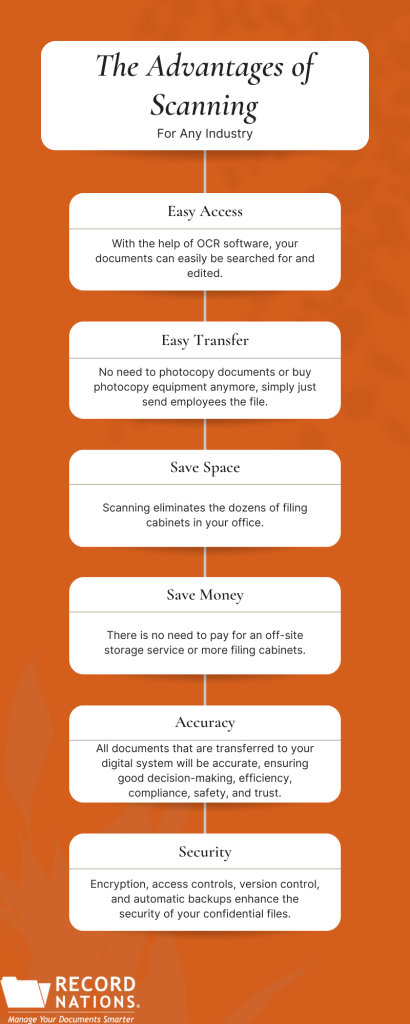 No matter what industry you're in, scanning provides many benefits that can improve your business's workflow and efficiency, and keep you ahead of your competition.
Easy Access
With all digital files stored in a document management system, documents can be easily searched and accessed on the work desk. With OCR scanning, your files can also be edited. This saves a lot of time and effort.
Easy Transfer
If several people need a copy of the document, just send the digital file to them. No need to photocopy documents anymore, which also saves on buying a photocopy machine, ink, and energy costs. It also enhances security by only allowing the people you transfer these files to to see them.
Space-saving
Document scanning eliminates dozens and dozens of file cabinets in the office. As a result, the office can finally look like an office, not a document warehouse.
Money-saving
There's no need to pay for an off-site storage facility for storing the paper documents. Also, there's no need to spend on extra office space just for the filing cabinets. The space can instead be used for more productive purposes such as more revenue-generating employees.
Accuracy
Document scanning guarantees that documents transferred to the system are all accurate. Accuracy is essential for all industries because it underpins good decision-making, efficiency, compliance, safety, and trust.
Security
Features like password encryption, access controls, version control, and automatic data backups enhances the security for scanned confidential files.
Enhance Your Business with a Professional Scanning Service Today!
If you are looking to convert your paper records to digital, Record Nations can help. Our nationwide network of contractors can work with your office to set up the perfect document management plan. If you're looking for a quote, fill out the form, use the live chat, or give us a call at (866) 385-3706.  
Within minutes of receiving your request, you will have free quotes from experts in your area who can help you select the system that fits your industry requirements best.