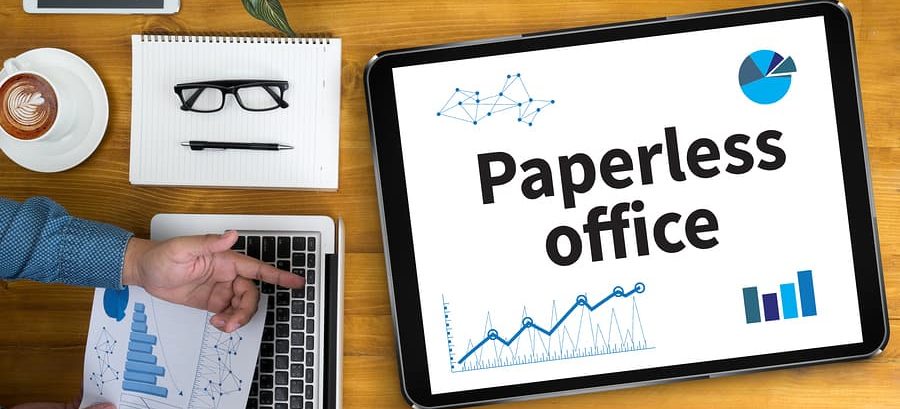 Businesses never seem to have a shortage of paper needs. However, this does not change the fact it's expensive to maintain all of the files. Document scanning has been saving companies money for years now, and the rest of the business community is figuring it out. Transferring to a paperless office provides many benefits for both the short-term and the long-term.
Why Go Paperless
Paperwork is the largest overhead expensive in any organization. This is because it's one of the most highly used items on the day-to-day basis. Also, many business documents require additional storage for privacy protection. This include human resources data, employee and customer information, and more.
Going paperless can reduce the costs of storage tremendously. In addition, your business would no longer have the need to use as much paper. This would save a lot of money, but a paperless office is much more than just reduced fees.
Scanning can do a lot more than save costs because it's incremental in business productivity as well. Through scanning documents, employees are able to have instant access to all. business documents. Additionally, files are editable and shareable, and this ushers a more collaborative environment.
Additionally, companies have constant access and record of their files, so there is no risk of data loss. The items are digital present and saved through different outlets whereas paper files are more at risk for natural disasters and loss.
Going From Paper to Paperless
By scanning documents, you are able to use a document management system. This helps with organization as well as cost management. Additionally, one of the major benefits is the decrease in recurring costs of maintaining storing paper files.
Scanning comes with an initial, one-time cost. However, it quickly makes up this fee through benefits and long-term reduction of costs. At 7-12 cents per page, scanning is a one-time investment and cuts out copying costs.
In a paperless office, files are accessible and able to distribute electronically. Additionally, off site storage recurring monthly fees are removed from the budget.
Paperless Management Systems
Paperless offices use systems, like cloud storage and electronic document management systems, to house and manage data. This is a more effective method of storage than cabinets and containers.
Using cloud or DMS software opens up various money-saving opportunities. This includes streamlining daily operations to cutting down basic supply costs.
Additionally, document management systems usher in more productive behaviors and enable employees to have more control over their files. Also, employees are able to seamlessly share and collaborate using a digital system. In turn, this increases efficiency as well as project completion.
Primary Paperless Savings
Scanning documents makes an impact in different ways. It's doesn't just affect the financial aspect of savings, but through time, space, and more. Through theses savings, businesses are able to utilize their money in different ways and become more efficient in operations.
Time Is Money
Employees can spend up to 2 hours looking for files every day. If you consider the numbers within the whole year, the costs begin to add up.
On average, large organizations lose a file every 6 seconds. Loosing a files can lead to major security threats as well as the potential for legal actions. It's critical to maintain a secure form of storage and organization of important documents.
Additionally, managers can spend on average 4 weeks per year searching for misplaced and lost information. This is critical time lost due to poor management of files. By wasting time searching, the opportunity cost is not be able to utilize time and skills doing more managerial work.
A paperless record management system cuts file processing down by roughly 4 days. This is a tremendous step forward when it comes to saving time.
Scanning records is a critical step in saving time for employees within the company. If time is saved, this opens up opportunities for more individual growth and project development.
Saving Space
With a paperless office, the space previously dedicated to file storage can now be used for more productive purposes. This enables individuals to utilize space more efficiently as well as save on additional storage costs throughout the year.
Besides extra space where filing cabinets used to be, paperless records management also avoids needing to buy expensive filing cabinets. Businesses are able to save much needed space for potential employees or other administrative needs.
Distribution Costs
In addition to the items listed above, scanning documents can also help with distribution costs. For every $1 spent on printing, another $6 is spent on distribution. These fees can begin to add up throughout the year as well.
Additionally, roughly $480 billion was invested in paper records manager salaries in recent years. Through scanning, this eliminates the need for a separate position. In addition, it enables employees to be more self-sustainable and proactive.
On average, companies spend $180 to re-create a one-page document. Scanning eliminates the risk of paper loss due to human error because all of the files are digital.
An Example of Costs Avoided By A Paperless Office
It's one thing to talk about the benefits of scanning, but it can help to see the potential savings as well. With 24 filing cabinets and 100 employees each making $15 per hour, paper costs would be:
| | |
| --- | --- |
| Cost Factor | Annual Cost |
| Paper Costs | $8,000 |
| Filing Cabinet Costs | $8,433.73 |
| Space (7 sq. ft. per cabinet @ $7.50 per sq. ft) | $1,265.04 |
| Labor costs w/ single file manager | $30,240 |
| Labor costs without file manager | $604,800 |
| Total annual cost w/ file manager | $47,938.77 |
| Total annual cost without file manager | $622,498.77 |
The potential money savings of scanning documents is huge, especially for companies. This money can be used for more productive purposes as well as reinvesting into the company or employees. The opportunities are endless, but the results are clear. Scanning is an essential part of a more efficient and productive working environment.
Looking to Go Paperless? Get A Quote Today
Learn more about transitioning to a paperless office, and the process of doing this. Additionally, it's critical to find the right digital document management option for your specific needs. Let Record Nations help you through this process today.
To get free, no-obligation quotes in just minutes, give us a call at (866) 385-3706, use the live chat option, or use the form on this page. Start the process of going digital today with a provider you can trust.