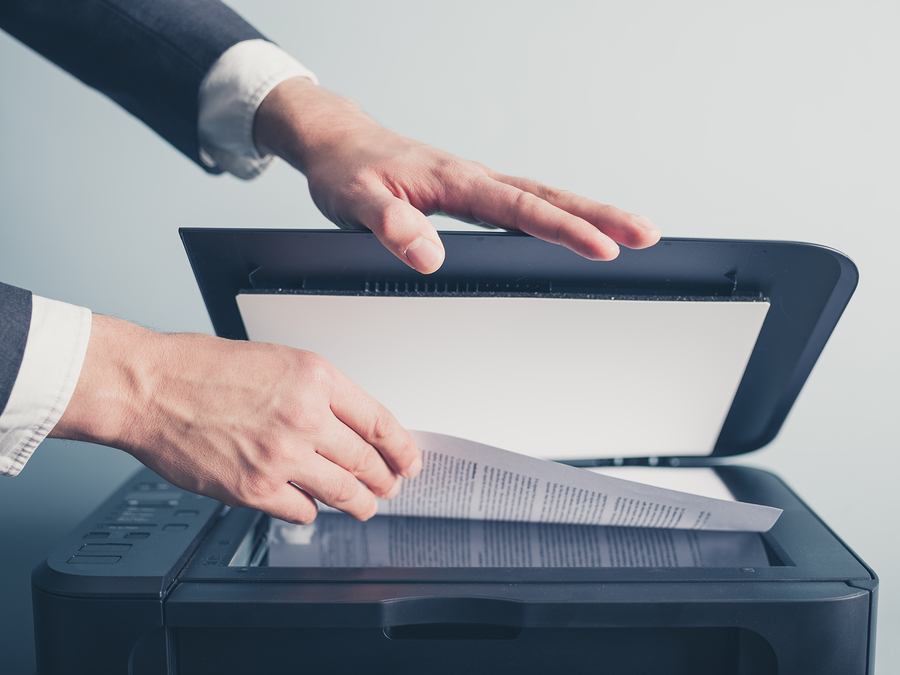 There are multiple services and solutions you can choose from when its time to make a decision on how to scan your documents.  The most important factor when picking a solution is that it is the best option for you or your business.
We are going to go over some of the options so you can gain an understanding of each option and help you decide which will be the most beneficial for you.
Day-Forward Scanning
Day-Forward Scanning is simply the process of scanning documents when they are accessed. If they are never needed, then they are aged out and shredded. The documents that are needed are generally the ones that will be needed more than once.
Moving forward from that date, all records will be scanned indexed, stored and managed digitally to make your office more efficient, your records more accessible, and decrease the costs of paper records.
Specialized Scanning Services
There are many scanning projects that just can't be completed by using a normal sized scanner. Some of the documents that you may need to scan that require a large format scanner include books, blueprints, X-Rays, and other documents larger than a sheet of paper.
Large Format Scanning—Just like the name suggests, items that are larger than a regular sheet of paper can be scanned with our large format scanners. It can
Blueprint Scanning—Blueprints can become easily shared and edited once they are scanned using our blueprint scanning service.
Scanning Into Systems
The solution to the document management problem is scanning documents into a document management system (DMS).  This system is traditionally a software platform that acts as a portal for all the documents in an organization. Electronic document management can be purchased as software and used on a company server or used as a "software service" with cloud computing.
A DMS should ultimately reduce labor costs and help your business or practice stay in legal compliance.
Visit this article, "The Cost of Medical Records Scanning", to gain a better understanding on how much the transition to digital will cost and the ROI the project can have.
Our experts can help you with any record scanning project, and they will help you through every step of the process, including:
Back File Document Scanning—If you need records scanned before your Scan Forward Date, you can scan any records as far back as you need to.
Large-Format Scanning—Scan blueprints, X-Rays, and other documents larger than a sheet of paper
Document Management Systems (DMS)—Keep your records organized and easy to access
Electronic Health Record Systems—A specialized DMS for hospitals and medical practices that meets HIPAA and HITECH requirements to keep your practice in compliance with the law.
Archiving and File Storage—Store the records you don't access regularly in a secure records storage facility.
We offer a full-service experience to help you manage your documents.  Record Nations indexes, scans, and completes all post production work, including optical character recognition (OCR) conversion, and the ability to edit your records and redact private information to protect your patients or clients.
We'll take the hassle out of your Scan Forward project with a custom solution that fits your needs.
Are you looking for Scanning Services?  Record Nations can help!
Record Nations has a network of scanning and record storage professionals to help you with your Day Forward Scanning.  We can help your company or practice make the transition from paper records to digital as seamless and easy as possible.  We service a variety of industries, including, but not limited to:
Whether you are a single practitioner or a hospital we can help. We will digitize your medical records and help you move them to electronic health records (EHR). We can even handle the data capture to make the integration seamless.
It may be for an inquiry or you might just want to streamline your records storage. We can scan on site if required at the offices of your client, or opposing counsel.
Maintaining client files can become costly and is not an expense that is easily passed on.  By moving records to a digital system they can be quickly found in the event of an audit.
Get Free, No-Hassle Quotes on Day-Forward Scanning today!
To get started, fill out the form to the right, or give us a call at (866) 385-3706.  Within minutes of receiving your request, you will have free quotes from experts in your area that can help you.