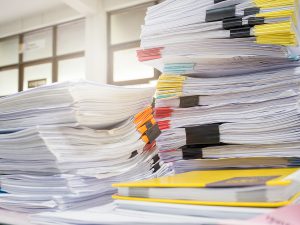 Properly storing and managing your old documents and records is a viable part of any business.
Many factors go into record storage, such as the need to access the files occasionally or regularly, the volume of records you need to store, and if you need any additional security for your documents.
Below are resources to find more information on document storage services, from the planning stage to the options available if you choose to scan your documents. 
For just about every industry, utilizing a physical, offsite storage service can reap numerous benefits.
By moving your physical files and documents offsite, you'll immediately gain an increase in physical space at your location.
Files are also tagged and indexed by your storage provider so your documents and files can be retrieved when you need them.
Record storage providers will typically charge each service by the volume of documents that need to be stored.
Additional service features can impact the final price of your document storage services, including document preparation, consulting services, quick-retrieval services, and others.
For a more comprehensive list of additional service options and pricing factors, click the service link above.
Once your documents are scanned, accessing your files are made fast and easy.
You can choose to house your newly created, electronic files on CD's, cloud storage solutions, hard drives, or a document management system that seamlessly collaborates with your business.
Get Free, No-Obligation Quotes on Records Storage and Management Solutions Today
Record Nations is your resource to finding reliable, secure, and quality document scanning services for your business. We provide you with free quotes from locally-based and operated contractors based on your area.
To get your free quotes in just minutes, fill out the form or give us a call at (866) 385-3706.