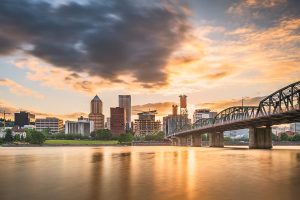 Medical providers should prioritize patient privacy when selecting medical record scanning and medical record storage providers. You will need to ensure that your records will be safe throughout the scanning process and while in storage.
Record Nations Portland simplifies the process of finding trustworthy providers to handle your records. We are your one-stop shop for compliant, reliable record management services. We have built an extensive network of companies that offer high-quality solutions with a focus on maintaining confidentiality.
Our services are always HIPAA and HITECH compliant. We can scan and store large amounts of files to make day-to-day maintenance of your files easier. We strive to keep you organized and efficient, so you can focus on providing high-quality care for your patients.
Preparing Medical Records for Scanning in Portland
Going digital is beneficial for medical practices because it gives you immediate access to patient charts, medical histories, lab results, and more. When your physical files are converted to a digital format, you will be able to seamlessly integrate your files onto an Electronic Health Record System (EHR). Using an EHR creates an organized system for your documents, making you more productive and helping you provide accurate, up-to-date information for your patients.
Medical record scanning is the first step in transiting to a digital practice. To prepare for your scanning project you will need to count your files. Learn how to estimate your number of documents here. 
Begin your medical record scanning project with these 3 steps:
Call us at (503) 303-2778 or fill out the form to request free quotes from Portland-based providers. Give us the approximate number of records you would like to scan and the level of detail you want for each file.
Within minutes, several medical record scanning companies will contact you with competitive price options.
Select the company that best fits your needs and together you can start your scanning project.
Medical Records Storage Services
When you use scanning and EHR services, you will reduce the amount of physical storage you need, saving money and space. However, some files will need to be retained physically for backup and legal purposes.
Offsite storage offers storage for your records in our secured facilities. You will be able to move your documents out of your office and utilize our safety features to prevent theft and damage.
Medical Records Custodian
Oregon requires medical records to be maintained for at least 10 years. Custodians of medical records can store physical copies in a secure storage facility or scan the documents and store them electronically using an EMR system. With either option, patient records must be readily available upon request. Failure to produce forms could result in fines or penalties.
Using a medical custodian takes the liability off of you or your practice. Hiring a company to manage your facility's medical records ensures you will remain in compliance and your past patients will continue to receive care and support. 
Record Nations Portland can help you find a local provider to manage your records, release needed information, and destroy the records after the retention period. 
Get Free, No-Obligation Quotes on Medical Record Scanning and Storage in Portland
Record Nations has a vast network of medical record management providers across the country. Call us at (503) 303-2778 or fill out the form to be instantly connected with providers in Portland and the surrounding areas. We are happy to answer your questions and send you free quotes on services near you.
Shred Nations Portland Location
Record Nations Portland
25 Nw 23rd Pl Ste 6
Portland, OR 97210
(503) 303-2778
portland@recordnations.com
Our normal operating hours are Monday — Friday 8:00 AM to 6:00 PM and Saturday 10:00 AM to 5:00 PM
Record Nations Portland is proud to serve Portland and the surrounding neighborhoods and cities, including:
Arbor Lodge | Beaverton | Boise | Collins View | Greshamv | Happy Valley | Hills Dale | Irvington | Kenton | Lake Oswego | Laurelhurst | Metzger | Milwaukie | Montavilla | Oak Grove | Overlook | Portsmouth | Raleigh Hills | Richmond | Rockwood | Roseway | Salem | St. Johns | Sunnyside | Tigard |  | Tualatin | Woodstock