Document scanning is a simple solution for a cleaner, productive office. Creating digital versions of your files saves time, increases productivity, and eliminates filing cabinets and onsite storage needs while streamlining your process of finding, copying, and re-filing paper files.
Document Scanning Process
You pack up your documents
Your provider picks up your documents
Your documents are safely transported
Your documents arrive at the secure conversion facility
Your documents are scanned
The digital files are converted to the desired format
The digital files are indexed and organized in the digital document management system of choice
The physical documents are shredded, stored off site, or returned to you
Specialized Document Scanning Services
From general records scanning and conversion to specialized services, Record Nations has a local professional that is ready to help you. Here's a list of our most popular services: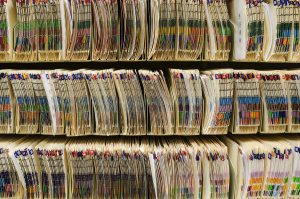 We have helped hundreds of medical practices convert their medical records into digital files to import into their EMR System.
HIPAA-compliant document preparation and indexing is included in the process.  Our experts can also help you with medical data abstraction, redaction services, and more!
Law offices have mountains of paperwork to manage.  Record Nations allows a better way to for recognition, classification, and automated loading of documents for each case. Document scanning also helps to improve client service by importing your files directly into your in-house document management system.
A scanning service will allow you to easily code, distribute and secure every piece of evidence document or court transcript in the discovery process.
Scanning dental records not only saves precious real-estate at your office, but also allows for an optimized method of searching and finding any desired files in an instant.
Local scanning companies use a sophisticated tagging and indexing process, supercharging your practice's efficiency and productivity!
Local Document Scanning Companies That Cater To Your Needs
Partnering with a local professional in your area eliminates the slow response times and poor customer service that national providers are infamous for—and the prices, fees and contracts are much more affordable.
Record Nations has built a nationwide network of document scanning companies that can provide you with a free, no-obligation quotes on virtually any document scanning service.  We make your document conversion process simple and pain-free.
Get Free Quotes on Scanning Services Near You from Record Nations
Record Nations works to find the best prices for your scanning service. Don't settle for poor customer service and slow response times, find a local scanning expert and make the jump to paperless today!
To get started, fill out the form or give us a call at (866) 385-3706. We'll get back to you with free quotes in just minutes!