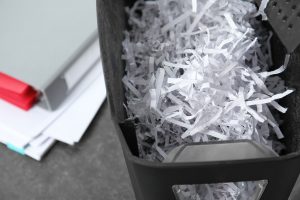 Identity theft, fraud, and security breaches can be prevented with document shredding and destruction services. The physical destruction of your documents and media ensures that your private information remains private and does not fall into the wrong hands.
Record Nations Thornhill offers a variety of destruction services that are convenient, affordable, and legally compliant. Contact us by calling (289) 860-0821 or fill out the form to learn more.
Thornhill Document Shredding Services
Professional document shredding uses cross-cut shredding techniques that result in a tiny, confetti-like shred. This prevents the reconstruction of your documents, keeping your information secure. Shredding is available as a one-time purge or on a recurring basis.
Our shredding services options include:
Mobile Shredding: We come directly to your location to shred on your curbside.
Offsite shredding: For large shredding projects, we pick up and deliver your documents to an offsite facility for destruction.
Drop off locations: Drop off small shredding projects at your convenience.
Thornhill Hard Drive Shredding and Degaussing
Hard drive destruction protects the data collected by your computing devices. We accept most electronics, including computers, smartphones, tablets, and scanners. We carefully take apart your devices to remove the hard drive and dispose of it using one of the following methods:
Hard Drive Shredding: Shredding takes apart your devices and runs the hard drive through an industrial-strength shredder. It completely destroys your hard drive making your data impossible to recover.
Hard Drive Degaussing: Degaussing uses high-powered magnets to jumble your data making it difficult to translate.
Hard Drive Crushing: Crushing punches holes into your hard drives to shatter the platters and destroy your information.
Get Free Quotes on Destruction Services in Thornhill
Destruction services protect your sensitive information and prevent damage to your business by avoiding data leaks. Call us at (289) 860-0821 or fill out the form to protect your business with our services today. We will send you free quotes from local providers in just minutes.
Record Nations Thornhill Location
Record Nations Thornhill
105 Commerce Valley Drive W
Thornhill, ON L3T 7W3
(289) 860-0821
thornhill@recordnations.com
Our operating hours are Monday-Friday from 8:30 AM to 5:00 PM.
Record Nations proudly serves these cities near the Thornhill area:
Agincourt | Concord | Don Mills | Downsview | Maple | Markham | Rexdale | Richmond Hill | Scarborough Township | Toronto | Weston | Willowdale | Woodbridge | York | York Mills