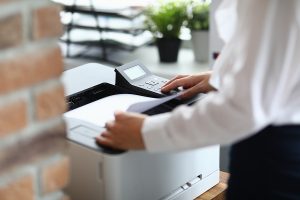 Document scanning creates digital files from your physical documents. Our scanning equipment uses digital capture to create clear, consistent records. Digital files reduce storage costs, while also increasing productivity and making it easier to access your information.
Conversion can be completed for projects of all sizes. Whether you have a single box of documents or would like to convert your entire library, we have options for you. Connect with local scanning companies by calling us at (289) 860-0821 or filling out the form. We will send you free quotes on your scanning project in minutes.
How Document Scanning Services Work
Document scanning uses data or document capture to convert files and/or extract information. Documents can be captured from several sources and improved using image cleanup software. Once converted, your files will be indexed for easy organization and keyword search capabilities.
Record Nations Thornhill wants scanning to be as easy as possible. We take care of the following steps to help you begin your scanning project:
We remove bindings to prepare documents for scanning.
We scan both single and double-sided documents.
We index by page or by entire document, whichever you choose.
We offer Optical Character Recognition (OCR), making your documents editable.
We put your converted files on the medium of your choice; including CDs, DVDs, or cloud storage.
We can accommodate special requests, just give us the details when you request a free quote by calling (289) 860-0821 or filling out the form.
How to Count Your Documents
Counting your documents will give you a better idea of the size of your scanning project. You won't have to count each page, simply use the formula below to find a close estimate.
Count the number of banker's boxes, files, or inches of paper you have. A standard banker's box (12.5″W x 15.5″D x 10.5″H) can fit 2,000 to 2,500 sheets of paper. A larger file box (15″W x 24″D x 10.5″H) can hold 4,000 to 4,500 sheets of paper. On a shelf, you can typically fit 150 to 200 sheets of paper per inch. Multiply those numbers by the number of boxes, files, or inches.
For example, if you have 3 banker's boxes full of paper, you will calculate: 3 boxes x 2500 sheets of paper = 7500 documents. Learn more about counting your documents here.
The Cost of Document Scanning in Thornhill
Scanning can reduce costs for your business by reducing the need for storage and increasing work efficiency. Multiple storage cabinets take up considerable office space, representing a significant portion of your lease costs. Finding and retrieving physical documents is inefficient and slow. Therefore, the costs of scanning are an investment into your future, which will undoubtedly pay for itself.
On average, scanning costs between 7 and 12 cents per page. The price per page decreases when the size of your project increases. We recommend stocking up on files to scan together to reduce costs.
Adding service options will also affect the price. Our options include:
Specialized scanning with OCR, redaction, indexed, non-indexed, etc.
Expedited turnaround time
Double-sided documents
Specific systems, file types, and special requirements
Contact Us for Free Quotes on Document Scanning Services in Thornhill
Complete your scanning project with our imaging experts. Record Nations Thornhill will help you prepare for your project and finish conversion securely. Give us a call at (289) 860-0821 or fill out the form to receive free quotes on your scanning project today. Our local providers will be in contact with you right away.
Record Nations Thornhill Location
Record Nations Thornhill
105 Commerce Valley Drive W
Thornhill, ON L3T 7W3
(289) 860-0821
thornhill@recordnations.com
Our operating hours are Monday-Friday from 8:30 AM to 5:00 PM.
Record Nations proudly serves these cities near the Thornhill area:
Agincourt | Concord | Don Mills | Downsview | Maple | Markham | Rexdale | Richmond Hill | Scarborough Township | Toronto | Weston | Willowdale | Woodbridge | York | York Mills