Scanning your office documents will help you move towards a paperless office, but the task can take hours of time away from employees if done in-house, and having the project spread out over several months leads to inconsistencies and duplications.
For these reasons, many companies elect to use a professional scanning service. Professionals have years of experience that helps them avoid common pitfalls and ensure a speedy, accurate process.
We can help you find a reliable local scanning service provider. Our partners have state-of-the-art equipment and will help you choose the scanning service that will best meet the needs of your business.
Below are some of our most popular services, but if you don't see what you are looking for, give us a call at (561) 293-3479 or fill out the form. We'll answer any questions you have and get your project started with free quotes.
How Record Nations West Palm Beach's Document Scanning Services Work
The key to a successful scanning project is accuracy, quality, and consistency. Our providers offer top quality services at fair prices and always convey a professional manner.
From one-time jobs to recurring services, the options you can choose from are endless. We can scan all types of documents and help integrate your new files into your existing system.
How Our Experts Can Help with Your Scanning Project
They remove all clips, bindings, and staples for you
They can scan double-sided documents—just tell us which side goes first
They offer flexible indexing, making one large document or tagging each page individually
OCR services allow for redaction services and editable text
Your new digital files can be in whatever format you prefer
Custom requests are welcome—just give us the details when you request a free quote
How Much Will My Scanning Project Cost in West Palm Beach?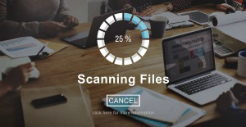 On average, the price to scan one page is around 7-12 cents. This price can vary based on where you are located, how much you have to scan, and what special or additional services you may require.
Because there are so many factors that can affect the price of your scanning project we recommend taking time to map out exactly what you will require.
We also recommend getting several priced quotes before committing to service provider to ensure you are receiving a fair price.
Use These Factors to Determine the Price of Your Scanning Project
The number of pages you have to scan
The type of scanning you require (OCR, redaction, indexed, non-indexed)
The date you want your project completed by
Your current systems and if you need your new files to integrate
There is also the matter of what to do with your documents after you scan them. Some businesses like to keep the original physical copies, others are ready to destroy them. Either way, we can connect you to a secure offsite storage provider or document destruction company in your area.
Get Free Quotes on Document Scanning Services in West Palm Beach
Record Nations West Palm Beach will help you find a qualified document scanning company in your neighborhood. There is nothing worse than investing in a scanning company who screws up your filing system.
Our partners are professionals and use the utmost care when handling your documents. Call us at (561) 293-3479 or fill out the form and we will get you several free quotes on services from experts near you.
Record Nations West Palm Beach Location
Record Nations West Palm Beach
430 Clematis St
West Palm Beach, FL 33401
(561) 293-3479
west-palm-beach@recordnations.com
Our normal hours of operation are Monday-Friday 8:30 AM to 5:00 PM.
Record Nations proudly services West Palm Beach and these nearby areas:
Atlantis | Boca Raton | Boynton Beach | Century Village | Greenacres | Haverhill | Jupiter | Lake Clarke Shores | Lake Park | Lake Worth | Lantana | Loxahatchee Groves | Mangonia Park | North Palm Beach | Palm Beach | Palm Beach Gardens | Palm Beach Shores | Palm Springs | Riviera Beach | Royal Palm Beach | Wellington