With any busine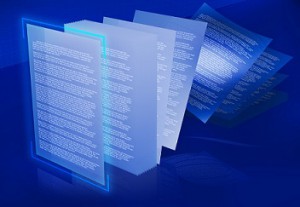 ss, there are certain files and documents that must be retained for many different legal and organizational purposes. In the past, the only way for them to do this was to keep a physical copy in a specified area of their office in order to refer back to it.
Although this was a sure-fire way to be able to have access to all of their files, this process often became messy and unorganized after having to keep hundreds, and even thousands, of documents on hand. Thankfully, with the continuing growth of technology, there is now another option.
The conversion from having to keep numerous physical files on hand to having the ability to scan and save them to a computer has changed the way many businesses are run. This process offers many advantages that allow the business to run more smoothly, such as:
Space

–

Probably the most obvious benefit of converting to paperless documents is the extra breathing room that is available without having to keep physical copies on hand. Often, businesses need an entire room set aside for filing alone. Document scanning allows businesses to utilize that extra space for other purposes.
Privacy

–

For each company, it is necessary for specific employees to have access to certain information and documents. With an electronic filing system, the company is able to choose which employees are authorized to view specific information. This ensures that only the approved employees are able to obtain certain information that others may not be able to get their hands on.



Organization

–

Electronic filing systems allow for better-organized document management. Each business has the ability to choose which filing system works best for them. Businesses are able to index certain documents together based on the information that they contain, allowing an easier way to access the document rather than having to sort through each one.
Faster Service

–

The business itself is able to obtain specific documents more quickly through an electronic filing system, allowing them to provide faster service to their clients. In many cases, the client is able to electronically upload their own documents that the business requests from them. This provides the client with a much more convenient and efficient option.
Converting to a paperless document management system offers multiple benefits that will help your business to run more smoothly all around. This transition allows your business to improve and to grow further than you could ever imagine.
How The Document Scanning Process Works
Get a Free Quote on a Document Scanning System for YOUR Business Today!
With locations across the United States, our team of professionals is prepared to find the best document scanning system suited for your business. We would love to help you get started- just fill out the form to the right, or give us a call at  (866) 385-3706. One of our experts will have a customized quote ready for you in minutes!