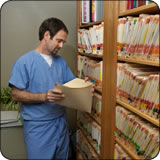 With nearly $19 billion of incentives for medical practices to convert to electronic records included in President Obama's economic stimulus plan, it might be the right time to select an Electronic Health Record system.
EHR software solutions, also called and EMR, for your medical practice. A quick look at hundreds of different EHR vendors on the market can easily overload your search.
Most doctors and office managers don't have time to go through hundreds of EHR companies. The best thing to do is narrow the list of EHR companies to a small set of successful ones who fit your needs.
9 Elements You Should Use to Evaluate A New Electronic Health Record Software
To get to a reasonable subset of vendors, here are nine things we recommend you evaluate:
Does the system use the codes and terminologies that are used in your office?
Can the system handle multiple physicians and/or offices?
Does the EHR create charts in a format that are easy to use?
Is it easy to use? Can you manipulate the data in different ways, if you desire, or is there only one way of accessing the information.
Where is the data stored? On servers in your office or is it offered as a cloud service? Does the system safeguard information in compliance with HIPAA?
How can you access the information? On a computer only or can you use notepads or a blackberry?
Does the EHR system manage other patient information such as test results, x-rays, and medical history?
What level of customization is available? And at what cost?
What are the maintenance costs?
Basic Electronic Health Record (EHR) Software Features
After the first pass you should have a few dozen who meet your criteria. Now take a deeper look into their feature set. There are a myriad of options but here are some of the most common ones.
Full patient history. It should be easy to find patient history including lab results.
Multiple records access. Allows other personnel to work on aspects of patient records concurrently with the physician.
Remote access. Log in over a secure Internet connection to access the data from anywhere.
Patient referrals. Know where patients came from and who you recommended them to.
Cross-checking prescriptions. A second check for patient allergies and drug interactions. It can also look at the drug compared to symptoms reported.
Insurance fee schedules. This should be real time information into what the patient's insurance covers.
Reporting capabilities. Generate useful reports for patient data, prescription inventory, appointment history, and more.
Secure access.. Use SSL technology to protect sensitive and confidential patient information and comply with HIPAA regulations.
Integration. It should be easy to work with hospitals and insurance companies.
But don't get seduced by a long list of features. EHRs are evolving rapidly to fit a variety of practices. Instead of just looking at a laundry list of features, consider how your practice functions. And how you would like it to function more efficiently.
Make sure you get input from everyone who will use the system. Not just the Doctors but the receptionist, billing and nurses. Features that your staff isn't going to use are of no benefit. You should also consider what processes you would like to change or optimize with an EHR.
Once you have narrowed your selection to a couple of options then set up a demo. Don't just watch a sales person click around; use they system as your office would. Enter some standard patient information and have everyone use the system. This test will quickly identify the system that will be the easiest to integrate with your practice.
Get Free, No-Hassle Quotes for Electronic Health Records Software!
Record Nations offers the most effective ways to help make sure your medical office records are stored and protected.  Accurate medical records scanning and a doctor's review of each record is also necessary to ensure that the system is capturing all the data once the conversion is complete- and indexing it properly so you can find it easily.
Record Nations specializes in making the transition simple and cost-effective for practices of all sizes.  If you're looking for a quote on Electronic Health Records System, please fill out the form to the right, or give us a call at (866) 385-3706.  
Within minutes of receiving your request, you will have free quotes from experts in your area that can help you select the system that fits your situation and your office best.