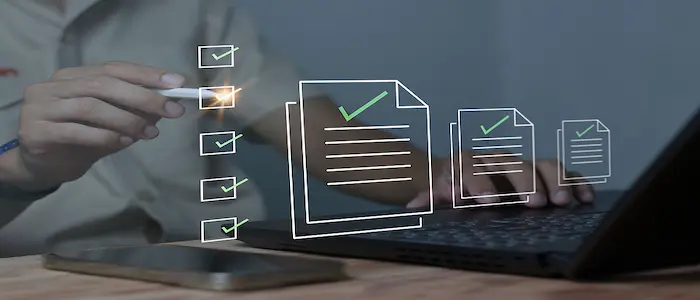 Homes and businesses are turning to digitization for better preservation and organization of their documents. Digital documents are easy to track, find, update, and share. Whether you have small or large volumes of files, you can digitize those documents quickly, and have them ready to use in no time.
Documents of all kinds can be digitized through a scanning process. Scanning creates a digital image that can be edited, stored, and made accessible online. There are several different methods for digitizing documents. We will discuss the options below and provide tips to help you with the conversion process.
Ways to Digitize Paper Documents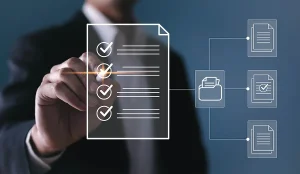 The best method for document digitization will depend on your specific needs and goals for your document management system (DMS). Here are some options:
Multi-function Devices
Multi-function devices (MFDs) incorporate several office machines into one. They can include a combination of a printer, copier, scanner, fax, and email. With the built-in scanner, MFDs capture images of your documents. You can scan one document at a time or several pages if the device has an automatic document feeder.
This method works well if you have small amounts of paper to convert. However, it can be time-consuming and is not suitable for high-volume projects.
Personal or Office Scanner
There are many scanners available for purchase. You will need to consider the speed, resolution options, software features, and more when selecting a scanner. Investing in your own scanner can be expensive and limiting depending on what you choose. Carefully research your options to ensure that you select the right device.
Scanning Apps
Scanning apps are a newer option for converting documents. They are great for beginners and provide step-by-step instructions. However, scanning apps are not appropriate for converting large volumes of documents and can be inefficient.
Document Scanning Services
Document scanning services are the best option for accuracy, quality, and precision. They can easily handle bulk projects and take care of prep, scanning, indexing, and formatting for you. Professional services can be an investment but are more cost-effective in the long run.
What Are the Steps to Digitize Documents
To begin the digitization process, you will need to consider the volume of documents you have and your timeline. Do you have a specific deadline for conversion? How much time will you need to sort through papers and organize them appropriately? Do you have a team to assist in the process or will you be handling the documents yourself? Once you have a plan of action, you can begin scanning.
Step 1: Get Organized
No matter which scanning method you choose, you will need to organize your documents. You can put them in order by date, client, or type. Group your files and put them in the correct order. Decide on a file-naming system that includes critical information and will help you locate your documents later.
Step 2: Begin Scanning
If you are scanning yourself, follow the instructions of your device or app. Make sure to properly align the documents, scan them, and save the file by name.
If you are using professional services, turn over your documents and they will finish the process. Your documents will be indexed and double-checked for quality control.
Step 3: Create a Document Storage System
Upload your digital documents into a new or existing DMS. Some apps will copy directly to their compatible storage system. Professional services will deliver your documents to you via a secured cloud, encrypted drive, or automatic upload to your DMS. Make sure your documents are organized in the correct folders and are password protected if needed.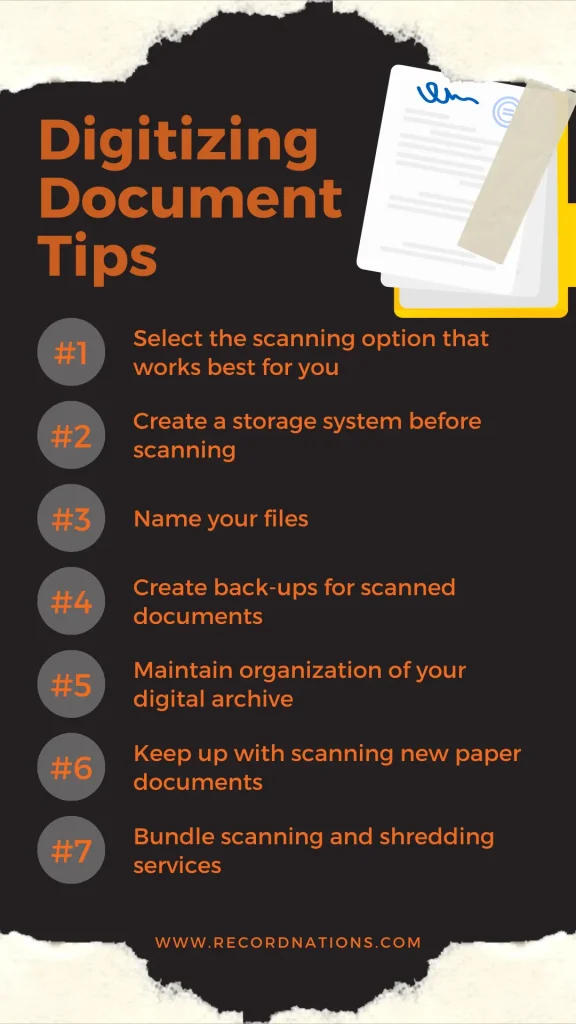 Helpful Tips
Digital documents keep your records safe and organized for efficiency and privacy. Here are some tips to help you with the digitization process:
Select the best scanning option based on your budget and privacy requirements
Create a storage system before scanning to stay organized
Name files for easy retrieval
Create back-ups for scanned documents
Maintain the organization of your digital archive
Keep up with scanning to avoid backlogs
Bundle shredding services with scanning to maintain privacy
Schedule Scanning Services to Digitize your Documents Today
Record Nations offers affordable and safe scanning services for businesses and homes across the country. We provide quick and accurate scanning to make the conversion process as easy as possible. Call us at (866) 385-3706 or fill out the form to connect with providers near you. We will send you free, personalized quotes in just minutes.