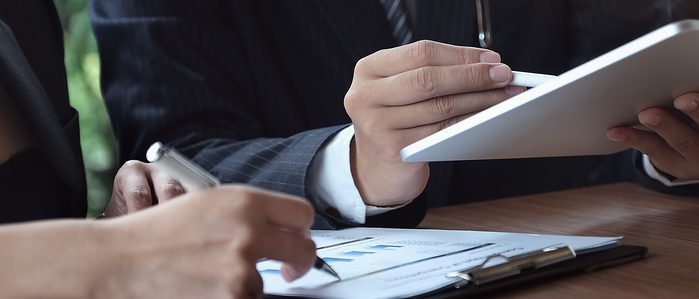 It can be difficult to keep up with documents around the office. Without a thorough records management strategy, it can lead to miscommunication and disorganization. A records management plan can help guide a company towards more productive and efficient practices.
It's important to create a solid records management plan. However, there are some mistakes that can lead to poor records management. This ultimately impacts the business as a whole. Poor records management can impact businesses in multiple ways, including financially, legally, productivity, and data loss.
Various Impacts of Poor Records Management
Having poor record keeping can lead to a range of risks that spread to other areas of the company. If records aren't managed properly, it can turn into future problems down the road.

Financial
Companies can run into trouble when documents get lost or are not tracked properly. This can impact budgets, taxes, and payroll. Not properly tracking the documents can lead to financial inefficiencies.
Legal
In the event a business faces legal action or an audit, a disorganized record keeping system can make it difficult to produce records in a timely fashion which is against the law. Additionally, this can lead to uses with retention tracking which is also against the law.
Productivity
Employees can spend countless hours searching for specific documents. This waste their time as well as the company's money. Their time should be used for more productive purposes. A poor management system can end up wasting time and money which will inevitability hinder your bottom-line.
Data Loss
No one ever wants a disaster to happen. However, it's critical to prepare for one just in case. This can end up saving your companies in recovery costs as well.
One way to prevent data loss is to create backup copies of documents. This ensures the complete data recovery in the event of a disaster. Instead of stopping work or closing down the office, you are able to seamlessly continue working.

How to Prevent Poor Records Management
Managing records helps businesses create more effective and efficient practices within the office. It can overall improve operations and increase employee workflow. However, it's important to take the proper steps to avoid poor records management.
In order to prevent poor management, it's important to create a plan that will help guide the company towards more effective processing.
Put a Plan in Place: You'll need to decide where to store and manage your records. For electronic records, there is cloud storage and document management systems. For paper records, there is off site storage where facilities handle the documents.
Time to Put Your Plan in Action: After implementing the plan, you can establish a record of past approaches. This allows you to prepare for new records storage and management plans for the future.
Develop a Disaster Recovery Plan: Accidents happen all of the time, and it's critical to prepare for it just in case. one way is to create backup copies of records to fallback on. Additionally, these backups can be stored at an offsite storage facility with climate-control and fire-suppressant systems.
Self Audit Your System for Accuracy: After implementing the plan and creating backups, it's critical to go back through to make sure there are no issues or inefficiencies. Auditing regularly can ensure the plan and stem will continue to work efficiently.
Overall, it's important to continue to review your plan to make sure they account for everything. This will ensure you records remain organized and secure.
Need Assistance With Records Management? We Can Help
Let Record Nations help you through the process. We'll connect you with local providers that specialize in records management.
To start the process, fill out the form to the right, use the live chat button, or give us a call at (866) 385-3706. Afterwards, you'll receive a free, non-obligatory quote on our services.