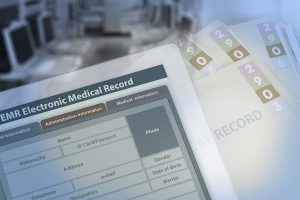 Medical practices need to select medical records scanning and medical records storage providers carefully. Your provider should maintain high security for your files throughout the scanning process and provide storage facilities that can protect your documents from theft, damage, and natural disaster.
Record Nations partners with scanning and storage providers that are HIPAA and HITECH-compliant. They are reliable, secure, and experts in the field.  Their full-service scanning and storage options will help you keep your documents organized, accessible, and safe. 
Preparing Medical Records for Scanning
Medical records scanning is the first step in converting to a digital practice. You can use your digital files in conjunction with an Electronic Health System (EHR). An EHR can help you track retention dates and increase security to safeguard personal health information (PHI). 
Scanning is easy when you follow these 3 steps: 
Fill out the form or call us at (815) 516-5072 to request free price quotes. Please include the number of records you would like to scan and the level of detail you would like to maintain for each file. 

Local providers will contact you right away. 

Review the price quotes and select the provider that best fits your needs. Together you can begin the scanning process. 
Medical Records Storage Services
Medical practices will always have physical files that need to be kept for legal reasons or to serve as backups for critical documents. Record Nations offers secure offsite storage options. At our facilities, you can rest assured that your records are safe. 
We have many security features including: climate control, fire and flood protection, and constant video monitoring. We give you control over who can access your files with customized clearance permissions. You will also enjoy unlimited accessibility whenever you need to retrieve a file.
Medical Records Custodian
When a Joliet healthcare facility closes, a custodian is often appointed to manage the patient records. Each state has different rules and guidelines for how long a record needs to be stored, in Illinois the minimum length of time is 10 years. 
Custodians of medical records can store physical copies in a secure storage facility or scan the documents and store them electronically using an EMR system. With either option, patient records must be readily available upon request. Failure to produce forms could result in fines or penalties.
Record Nations can help you find a local provider to manage your records, release needed information and destroy the records after the retention period.  
Protect Your Patients' Information in Joliet Today!
Customize your medical records management with Record Nations. We offer scanning and storage services that are safe, compliant, and reliable. Get started by calling us at (815) 516-5072 or filling out the form. We look forward to answering your questions and connecting you with local providers. We also have more resources available on our medical industry services in our articles section.
Record Nations Joliet Location
Record Nations Joliet
2405 Essington Rd Ste B
Joliet, IL 60435
(815) 516-5072
joliet@recordnations.com
Our operating hours are Monday-Friday from 8:30 AM to 7:00 PM and Saturday 9:00 AM to 4:00 PM.
Record Nations proudly serves these cities near the Joliet area:
Bolingbrook | Channahon | Crest Hill | Frankfort | Goodings Grove | Lemont | Lockport | Mokena | New Lenox | Orland Park | Plainfield | Romeoville | Shorewood | Tinley Park | Woodridge