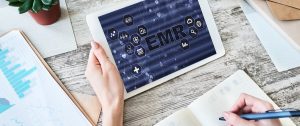 Record management should be organized, efficient, and secure. When managing health records, privacy is prioritized to protect patients and stay in compliance with HIPAA, HITECH, and other privacy regulations.
Medical record scanning and medical record storage with Records Nations Rockford will ensure that you stay in compliance throughout digital conversion and daily document management. Our trusted providers will maintain patient confidentiality, while providing high-quality results.
Our full-service scanning creates clear, consistent images formatted digitally. Our secured storage facilities offer protected storage space with easy retrieval options. Call us at (779) 232-1021 or fill out the form to learn more about our medical record services available in Rockford and the surrounding areas.
Preparing Medical Records for Scanning in Rockford
Scanning a large of amount of documents yourself is time consuming and overwhelming. Professional scanning services will quickly complete your scanning project with a variety of specialized scanners to convert files of all sizes and types.
After scanning is complete, you will be able to seamlessly integrate your files onto an existing or new Electronic Health Record System (EHR). The EHR together with your digital files will help you to better coordinate care and maintain patient files.
Record Nations Rockford will take on any sized scanning project, all we ask is for an estimate of how many files you will be scanning. Knowing an accurate document count will help us prepare to scan and allow us to give you an accurate price quotes. For tips on counting your documents, click here.
Get started with your scanning project in 3 easy steps:
Call us at (779) 232-1021 or fill out the form to request free quotes from scanning providers in the Rockford area. Include details about your scanning project like the number of records you would like to scan and the level of detail you want for each file.
Multiple medical record scanning providers will be in contact with you right away.
Review the price options, choose a provider that best fits your needs, and begin your scanning project.
Medical Records Storage Services
Medical record storage can be paired with medical record scanning to provide physical back up for critical files. Our offsite storage facilities will protect your records with 24/7 monitoring, live patrol, and disaster protection. We give you control over who can access certain files and offer retrieval options whenever they are needed.
Digital storage can be provided as well to cover all of your medical record storage needs. Contact us if you have any questions or need assistance determining which services would best fit the needs of your practice.
Get Free, No Obligation Quotes on Medical Record Scanning and Storage in Rockford
Record Nations Rockford wants to simplify record management for your medical practice, hospital, or healthcare related business. We have served thousands of companies across the country, helping them get organized and maintain privacy compliance. Get started by calling us at (779) 232-1021 or filling out the form. We will connect with local providers offering competitive pricing in just minutes.
Record Nations Rockford Location
Record Nations Rockford
2135 11th St
Rockford, IL 61104
(779) 232-1021
rockford@recordnations.com
Our normal operating hours are Monday-Friday from 8:00 AM to 4:00 PM
Record Nations proudly serves these cities throughout the Rockford area:
Beloit | Belvidere | Byron | Clare | DeKalb | Dixon | Freeport | Genoa| Harvard | Huntley | Janesville | Lake in the Hills | Loves Park | Machesney Park | Monroe | Poplar Grove | Rochelle | Rockton | Sycamore | Union | Woodstock