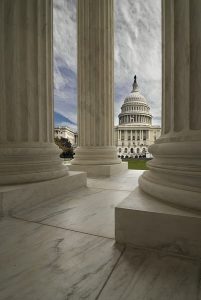 Selecting the right medical record scanning or medical record storage provider in Washington D.C., for your practice can be quite a task.
It's important to find a secure management company that provides quality, accurate, and consistent results when they're converting your patient records or storing and retrieving your medical records.
Record Nations D.C. offers full-service, medical record scanning for medical practices, hospitals and any related business. Our medical record management experts can scan and index large volumes of documents quickly at a reasonable price. Our medical record imaging process and medical record storage facilities are HIPAA and HITECH compliant.
Preparing Medical Records for a Scanning Project in Washington D.C.
Our medical record scanning experts provide customized quotes based on your specific scanning needs and the amount of patient records or charts you have.
HIPAA, or the Health Insurance Portability and Accountability Act, is a law that was passed in 1996. It was designed for a number of purposes, one of which is to ensure the confidential handling of health records. All medical records scanning must be done in a manner that is compliant with HIPAA and its privacy regulations.
Because these records are filled with personal health information (PHI), you are obligated to ensure that they remain private and secure at all times. This is not just a moral obligation to your patients, it's a legal obligation. Patient privacy is important, and something that needs to be handled with care when you start a medical imaging project.
Our medical record scanning is a simple, hassle-free process:
Fill out our form or give us a call to let us know the number patient records you need scanned, along with the level of detail you need to maintain for each record.
A secure local scanning contractor that is HIPAA and HITECH compliant will contact you shortly thereafter.
Each provider in your area will send you a customized quote based on your requirements.
Then, you select the provider that fits your needs best, and they'll start the scanning process.
Medical Records Storage Services in Washington D.C.
Using an offsite medical records storage center in the D.C. area will help you open up office space, increase productivity, reduce the chance of a medical record from being lost or misplaced, and provide protection from fire and theft.
Secure offsite medical records storage companies can back up and store critical patient files To protect patient privacy, you can limit who has access to where the files are stored, and can set different levels of security to determine which staff members are allowed access to certain sets of records.
Medical Records Custodian
Washington DC is no stranger to laws. When a healthcare facility closes, it's highly recommended that a custodian is acquired to manage the old patient records. Each state has different rules and guidelines for how long a patient file needs to be stored.
Custodians of medical records can store physical copies in a secure storage facility or scan the documents and store them electronically using an EMR system. With either option, patient records must be readily available upon request. Failure to produce forms could result in fines or penalties.
Record Nations Washington DC can help you find a local provider to manage your records, release needed information and destroy the records after the retention period.  
Get Free Quotes on Medical Record Scanning in Washington, DC Today!
Record Nations D.C. will help you find a medical records scanning provider that is HIPAA and FACTA compliant, and will handle your project quickly and securely. We're experts in medical records scanning services- our membership of professional medical records scanning providers are ready and capable of handling your sensitive records.
To get started, fill out the form or give us a call at (202) 899-6986.

Within minutes of receiving your request, you will have free quotes from experts in your area that can help you.
Record Nations Washington DC Location
Record Nations Washington DC
1155 21st Street Nw Suite M 300
Washington DC  20036
(202) 899-6986
washingtondc@recordnations.com
Our hours of operation are Monday-Friday 8:00 AM to 5:00 PM
Record Nations is proud to service these cities throughout the greater Washington D.C. area:
Alexandria | Annapolis | Arlington | Baltimore | Bethesda | Chillium | College Park | Columbia | Coral Hills | East Riverdale | Friendship Village | Falls Church | Glen Burnie | Hyattsville | Langley Park | Lincolnia | Mount Rainier | Silver Spring | Takoma Park