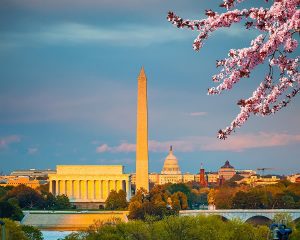 To help complete your document management project, we offer a chance to dispose of your documents and records properly and securely. It is critical to dispose of your documents properly to ensure that criminals cannot steal the information.
Record Nations Washington DC can help you manage your disposal and choose the correct disposal service for your business needs. Below are just a few of the destruction services we offer. To get started with any of the services give us a call at (202) 899-6986.

Washington DC Document Shredding Services
Record Nations Washington DC will help you find the right shredding service for your company's needs. We offer two types of shredding services. The first is mobile shredding where the shred truck will come to your location and shred everything onsite. The second shredding services is offsite shredding. This service will shred large projects at a secure offsite facility using an industrial-sized shredder.  Our shredding services can help you:
Set up a program to provide weekly, monthly, or annual shredding services
Shred your documents after you scan them
Manage and dispose of inactive documents that are past their specific required retention times
Clean up and dispose of non-critical documents in your storage room or file room before you start your scanning project or store your documents offsite.
Shredding services are one of the most convenient and affordable destruction services available to help your business protect its personal information.
Hard Drive Shredding and Degaussing in Washington DC
When you want to dispose of your old hard drives, they should be properly disposed of by complete and total destruction from secure destruction companies. This service needs to be completed so that the hard drives previously stored information is unrecoverable helping to protect your personal information and that of your business, employees, and customers.
Record Nations Washington DC offers several ways to dispose of your hard drive properly, including:
Hard Drive Shredding– Have your hard drives picked up in a secure bin and shredded into pieces that eliminate the chance of extracting data from the platters inside the drive.
Hard Drive Degaussing– Our local professionals use machines with high-powered magnets to scramble the information on your drives, making it impossible to recover or retrieve any files.
Hard Drive Crushing- We punch a hole and crush the drive, shattering the platters and making them completely unrecoverable.
Our destruction companies in Washington DC offer secure destruction through a complete chain of custody.
Get Free Quotes on Destruction Services in Washington DC
Following the completion of any of our destruction services, our contractors will provide you with a certificate of destruction. This certificate of destruction is evidence that your documents and electronics were properly destroyed in accordance with the law as well as that everything that was destroyed is completely unrecoverable.
To get started on any of our destruction services today, start with a free quote by filling out the form or giving us a call at (202) 899-6986. We will be in touch with you shortly so that you can select the best contractor that fits your office needs and budget.
Record Nations Washington DC Location
Record Nations Washington DC
1155 21st Street Nw Suite M 300
Washington DC  20036
(202) 899-6986
washingtondc@recordnations.com
Our hours of operation are Monday-Friday 8:00 AM to 5:00 PM
Record Nations is proud to service these cities throughout the greater Washington D.C. area:
Alexandria | Annapolis | Arlington | Baltimore | Bethesda | Chillium | College Park | Columbia | Coral Hills | East Riverdale | Friendship Village | Falls Church | Glen Burnie | Hyattsville | Langley Park | Lincolnia | Mount Rainier | Silver Spring | Takoma Park