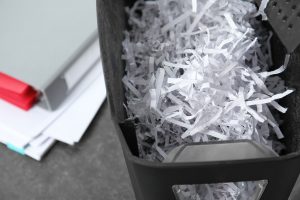 Leaks of information can lead to identity theft, fraud, and corporate espionage. Document shredding and destruction services prevent your information from being stolen and misused. Our permanent disposal methods conform to federal and California state privacy laws to keep you protected and within compliance.
Record Nations will instantly connect you with certified shredding and destruction providers in your area. We offer affordable services that are convenient and easy to use. 
Our Document Shredding Services
Shredding protects your information by cutting your documents into tiny pieces. We use cross-cut shredding techniques that result in a small, confetti-like shred. Your documents will be impossible to reconstruct, ensuring that your information remains confidential. 
Mobile shredding comes to your location to shred onsite. Offsite shredding was designed for high-volume shredding projects. We pick up your documents and deliver them to a local shredding facility for destruction. Drop-off shredding services are available at your convenience. They are best for small shredding jobs under 100 pounds of paper. 
Shredding services can be scheduled on a reoccurring basis to keep up with your regular shredding needs. We have frequency options ranging from weekly to annually. Shredding can be paired with scanning or storage services to dispose of non-critical, inactive, or past-retention documents. 
Our Hard Drive Shredding and Degaussing Services
With today's technology, electronics have a shorter life span than ever before. When it comes time to upgrade your devices, you will need to make sure that your information cannot be recovered and used with ill-intent. 
Hard drive destruction ensures that your data is completely destroyed. We use exhaustive methods that physically break down your hard drives to destroy your information. Here is a list of services we offer to destroy electronic media: 
Hard Drive Shredding:

This method completely destroys your devices by breaking them down, shredding the hard drives, and recycling the remaining materials. Shredding completely destroys the hard drive making it impossible to recover any information.

Hard Drive Degaussing:

This method uses high-powered magnets to scramble the data stored within your hard drives. It makes it very difficult to decipher and recover your information. 

Hard Drive Crushing:

This method punches holes into your hard drives and crushes the platters. Your drives will be shattered into pieces and your data will be destroyed. 
Protect Your Data With Document Shredding Services Today!
Shredding and hard drive destruction protect your private information from being misused. Our services are an affordable insurance policy against identity theft and fraud. Call us at (650) 830-3532 or fill out the form to connect with certified destruction providers near you. We can help you select services and answer all of your destruction questions. 
Record Nations Burlingame Location
Record Nations Burlingame
1120 Broadway
Burlingame, CA 94010
(650) 830-3532
burlingame@recordnations.com
Our operating hours are Monday-Friday from 8:30 AM to 5:00 PM.
Record Nations proudly serves these cities near the Burlingame area:
Alameda | Belmont | Daly City | Foster City | Half Moon Bay | Hillsborough | Menlo Park | Millbrae | Pacifica | Redwood City | San Bruno | San Carlos | San Francisco | San Mateo | South San Francisco