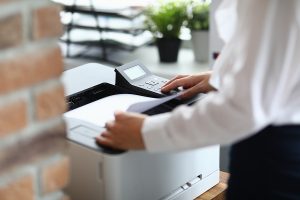 Document scanning uses digital capture to convert your paper documents into digital files. Scanning cuts costs, increases productivity, and makes it easier to access your information. Our scanning experts will scan and index your documents and save them to the digital medium of your choice. We can convert your entire organization, a single department, or a few select files.
Begin services today by calling us at (518) 621-3355 or filling out the form. We look forward to working with your business and assisting in your move to digital business.
How Document Scanning Services Work
Your documents will be converted using document and data capture. Document capture creates a digital copy of the document using PDF, JPEG, or TIFF file formats. Data capture extracts certain data from a document and organizes the information into a database. We will use the capture technology that makes the most sense for your business.
We will also take care of the following steps to help you begin to prepare for your scanning project:
We remove bindings to prepare documents for scanning.
We scan both single and double-sided documents.
We index by page or by entire document, whichever you choose.
We offer Optical Character Recognition (OCR), making your documents editable.
We put your converted files on the medium of your choice; including CDs, DVDs, or cloud storage.
We can accommodate special requests, just give us the details when you request a free quote by calling (518) 621-3355 or filling out the form.
How to Count Your Documents
Counting your documents will give you a better idea of the size of your scanning project and help your provider give you an accurate price quote. Counting your documents is easy. Count the number of banker's boxes, files, or inches of paper you have. A standard banker's box (12.5″W x 15.5″D x 10.5″H) can fit 2,000 to 2,500 sheets of paper. A larger file box (15″W x 24″D x 10.5″H) can hold 4,000 to 4,500 sheets of paper. On a shelf, you can typically fit 150 to 200 sheets of paper per inch. Multiply those numbers by the number of boxes, files, or inches.
For example, if you have 3 banker's boxes full of paper, you will calculate: 3 boxes x 2500 sheets of paper = 7500 documents.
The number will vary, but an estimate is all you will need to move forward. Learn more about counting your documents here.
The Cost of Document Scanning in Cobleskill
Storing and managing paper documents is expensive. Scanning saves space and time. The cost of scanning typically costs between 7 and 12 cents per page. The more documents you have to scan, the lower the price per page will be.
Service options may also affect the price. Our options are:
Specialized scanning with OCR, redaction, indexed, non-indexed, etc.
Expedited turnaround time
Double-sided documents
Specific systems, file types, and special requirements
Contact Us for Free Quotes on Document Scanning Services in Cobleskill
Digital conversion is an investment into the future of your company. Contact Record Nations Cobleskill to begin your scanning project today. We will connect you with local providers and send you free, no-obligation quotes within minutes. Call us at (518) 621-3355 or fill out the form to begin.
Record Nations Cobleskill Location
Record Nations Cobleskill
111 Barnerville Rd
Cobleskill, NY 12043
(518) 621-3355
cobleskill@recordnations.com
Our operating hours are Monday-Friday from 8:30 AM to 5:00 PM.
Record Nations proudly serves these cities near the Cobleskill area:
Albany | Amsterdam | Cohoes | Glens Falls | Gloversville | Kingston | Oneonta | Poughkeepsie | Rome | Rotterdam | Saratoga Springs | Schenectady | Troy | Utica | Watervliet