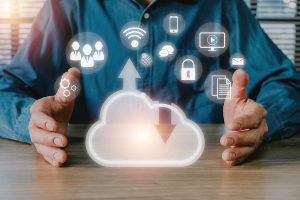 Document storage services help you get organized and make it easy to access the information you need. Organization is necessary for businesses to complete their daily operations and maintain retention schedules for their paperwork.  

Your records will be safe, accessible, and well-managed with Record Nations. We can help you by moving your documents to offsite storage, storing digital data in the cloud, or by setting you up with document management system software. Our customizable storage options can be personalized to meet the exact needs of your business. 
Our Storage Options in Peoria
Physical Document Storage
Filing cabinets in the workplace puts your information at risk. Moving your files off-site will not only open up valuable workspace; but it will better protect your files from theft, loss, and damages.
Our physical document storage facilities have features like climate control, flood protection, fireproofing, and even underground vaults. They offer strict access controls, 24/7 monitoring, and live guard patrol. Our storage providers follow all federal and state privacy laws to keep you in compliance.   
Cloud Storage and Services
Cloud storage and services offer flexible storage and remote access to your files. You will be able to easily find your documents with centralized storage and keyword searching. Collaboration becomes seamless with easy editing and sharing features. You will enjoy advanced security and improved efficiency with cloud services.
Document Management System Software (DMS)
Document management systems (DMS) modernize your business by helping you run your company digitally. Features like tagging and OCR make it easy for you and your team to access, edit, and share documents. Our systems prevent errors and redundancies, while promoting collaboration.
Find The Best Document Storage Service For Your Business Today
Efficient document storage helps your business run smoothly. We have storage solutions for physical and digital files that can be used together or separately to meet your needs. Give us a call at (309) 214-9009 or fill out the form to learn more and receive free quotes from Peoria-based providers.
Record Nations Peoria Location
Record Nations Peoria
419 Elm St
Peoria, IL 61605
(309) 214-9009
peoria@recordnations.com
Our hours of operation are Monday-Friday from 8:00 AM to 5:00 PM.
Record Nations proudly serves these cities near the Peoria area:
Creve Coeur | East Peoria | Edwards | Groveland | Kingston Mines | Mapleton | Metamora | Morton | Mossville | Pekin | Peoria Heights | Washington