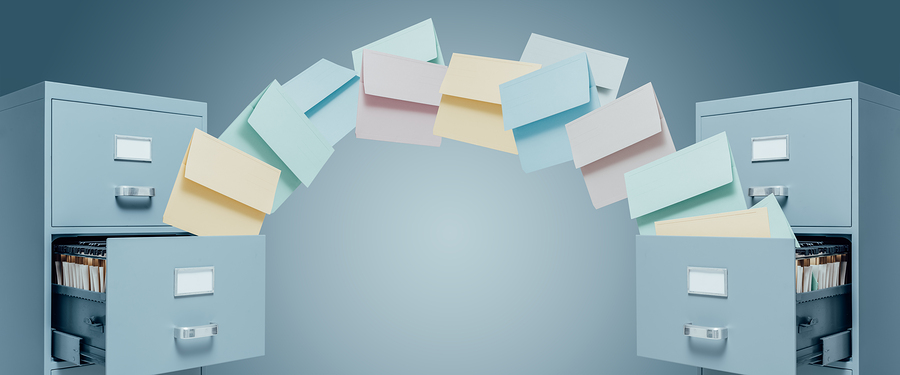 <
Offsite Storage: Starting Off the Process
More businesses are shifting towards paperless management, but between retention laws and the reality that there are some files businesses need to keep but rarely reference, it's often cheaper to keep these records as hard-copies instead of spending the money to scan them instead.
On average, storing records offsite costs only 15-25 cents per box per month, and is simple to set up with a provider. Once the storage service is arranged and it's time to take the boxes to the facility, the provider conveniently sends a truck to pick up your documents rather than you dropping them off.
Tracking Stored Records: Stay Organized
Upon arrival your records are stored amongst the other countless boxes at the facility, but before they're put on the shelf your boxes are first organized and marked with a bar code label.
Offsite storage providers use these bar codes to track all the documents you store, which can prove invaluable in multiple ways such as the ability to quickly retrieve the files you request and help with tracking record retention periods when individual boxes are identified for specific destruction times.
Protecting Stored Records: How Facilities are Secured
| | |
| --- | --- |
| Environmental Hazards | Criminal Hazards |
| To protect from environmental hazards, facilities are equipped with fire-suppressant systems and use climate controls to control high humidity and temperatures. Using a backup power source, stored files can be protected during a power outage. | To prevent break-ins, storage facilities are also protected with 24/7 monitoring and guarded perimeters, entries, and interior areas as well. |
Accessing Stored Records
While documents may not be as close as an office filing cabinet, records storage facilities are able to provide 24/7 access and retrieval for stored files.
Most files can be returned within the same or next business day, but most providers will offer emergency retrieval services as well.
How Old Records are Handled
What happens when they're no longer need?
When stored files reach the end of their life cycle, they often are records with information that needs to be shredded.
While some might think that means they need to get their documents returned and then separately schedule a shredding service or do it themselves after, the bridge between shredding and storage is actually much smaller and more simple.
With an industrial shredder either available on site at a storage facility or a shredding service partnered with the records storage provider, you can smoothly transition from secure document storage to secure destruction. Afterwards, your documents are recycled, and you in turn receive a certificate of destruction.
Need a Cheaper Way to Store & Manage Records?
Find solutions for maximizing the cost and time-efficiency of accessing, managing, and eventually destroying your records and files by visiting us at Record Nations today.
To get your free, no-obligation quotes in just minutes, give us a call at (866) 385-3706 or use the form on the right.