Document scanning is often the first step to a document management plan. As offices increasingly move towards a digital workflow, scanning is a necessary project—but it can be daunting.
Rather than use your own employees for a slow, possible disorganized or confused scanning procedure, partner with an expert. Record Nations has partners across the Scottsdale are and will match you to a service provider who can perform exactly what you need.
From complex indexing, to scanning documents of all sizes and getting it done swiftly and correctly, our team of professionals will cater to your every need.
If you don't see the service you are interested in below, take a minute to fill out the form or call us at (602) 903-1163. We are happy to answer any questions you have.
How Do Scanning Services Work in Scottsdale, AZ?
Our scanning services are comprehensive and flexible. We value accuracy, quality, and consistency in every scanning project, and will index and scan according to your rules and needs.
Whether you need to accomplish a large, one-time scanning project, or are in need of long-term, regular scanning services, our contractors can help.  With state of the art equipment and time tested techniques, you can be sure our scanning efforts will provide a clean and consistent result.
Here is What You Can Expect from Our Scanning Experts
They will prep your documents—removing bindings, clips, staples and spirals
Double sided documents can easily be scanned
You choose how you want it indexed and we deliver—individual pages or entire documents
Editable text and redaction services can be performed using OCR services
Your newly digital files can be delivered to you in the format you require
Have a custom request? Just include your instructions when you request a free quote
What is the Average Price of Scanning Services in Scottsdale?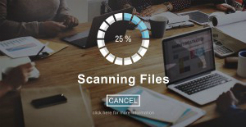 The average cost of scanning one page is around 7-12 cents. This price varies based on where in Arizona you are located, how much you have to scan, and the types of services you are requesting.
There is a multitude of factors that contribute to the overall price of your scanning project. The best way to get an accurate estimate is to think of all the details of what you will need and let us know.
We also suggest getting several quotes from a few different providers to ensure your prices are fair, and so you can make an informed judgement call of the services you end up choosing.
The Estimate of Your Project Depends on Several Factors
The type of scanning services you are looking for (OCR, redaction, indexed, non-indexed)
The time frame you expect the project to be completed within
The amount of pages you have to scan
The systems you currently have and whether you need your new files to integrate or not
You should also consider what happens after the completion of the scanning. You will be left with boxes of scanned papers—do you want to throw them out or keep the physically copies? We can get you set up with a secure document destruction company or an offsite storage company.
Get Free Quotes on Document Scanning Services in Scottsdale
Record Nations Scottsdale has built a comprehensive network of local scanning professionals that have decades of industry experience. We can match you to providers in your area who can get your scanning job done quickly and accurately.
Fill out the form or call us at (602) 903-1163 to get free quotes from our experts. Get your scanning project started off on the right foot.
Record Nations Scottsdale Location
Record Nations Scottsdale
15560 N Frank Lloyd Wright Blvd
Scottsdale, AZ 85260
(602) 903-1163
scottsdale@recordnations.com
Our normal operating hours are Monday-Friday 9:30 AM to 6:00 PM, and Saturday 9:00 AM to 3:00 PM.
Record Nations proudly services Scottsdale and these nearby cities:
Apache Junction | Chandler | Florence | Gilbert | Glendale | Goodyear | Litchfield Park | Mesa | Paradise Valley | Peoria | Phoenix | Surprise | Tempe | Tolleson | Waddell