H

IPAA is the Health Insurance Portability and Accountability Act.  Basically is what that means is that HIPAA is here to help protect our information at doctors offices from fraud and also to help make sure that our electronic medical files are more secure.
Any kind of health plan or health care provider must follow HIPAA guidelines in order to make sure that their patient's information is secure, not only when in paper form, but electronically and verbally.
One of the most obvious reasons we have HIPAA guidelines is to ensure that our information is protected from identity theft.
This is why all documents in doctors offices must be kept very secure, and also must be disposed of properly.
Why Is HIPAA so Important?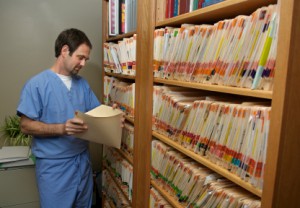 It's difficult enough keeping an eye on everything that you throw away at home, let alone all of the companies that have information of yours that could be easily used to steal your identity.
This is why these guidelines are in place.  HIPAA is here to make sure that you don't have to worry about what happens to your secure information when you don't have any control over it.
From a business standpoint it is very important to follow all of the guidelines as well.  You always want to make sure you are doing everything possible to make sure that your patients information is safe and secure not only to protect them, but also to protect your own practice.
If certain guidelines aren't followed there are huge fines that need to be paid, or possibly the closing of your practice.  HIPAA protects our information which is very important, and it also helps make sure that we have peace of mind when it comes to our information.
If you'd like to learn more about HIPAA, visit our blog section!
Get Free, No Obligation Quotes On Medical Record Scanning and Storage Services Today!
Record Nations can help you find a reputable local scanning partner that can handle your project quickly, efficiently and securely.  Let us help you get more organized and eliminate the costs associated with digital paper document management today!
If you'd like a free, no obligation quotes on medical record scanning, storage, or are looking for help on importing files into an EMR, fill out the form to the right, or give us a call at (866) 385-3706.
Within minutes, you'll be connected with an expert in your area that has a quote ready for your scanning project.