Paperwork in medicine can be a thankless and often never-ending task. From patient charts to dealing with insurance, and more, time spent filling out forms can quickly eclipse that spent with patients. As a result, a well-functioning medical records management system is important so that your healthcare workers can spend more time treating patients, and less time in front of a screen. 
What is medical records management and its importance? What are some best practices to achieve good records management? This article is your complete guide to answering all your questions so your practice can succeed.
What Is Medical Records Management?
Medical records management, broadly defined, is the system that governs and stores patient information throughout their treatment, from the time they enter the waiting room until the retention period ends. 
Healthcare organizations used to be confined to physical document storage, with filing cabinets and storage rooms containing the index of their patient's treatment, personal information, and insurance records. 
While some organizations are still required to keep physical copies, many are making the shift to electronic management software. Regardless of the format, HIPAA and HITECH require the protection of these records. A significant part of proper records management involves security. 
The Importance of Medical Records Management
In addition to protecting a patient's private information, medical records management is vital to a patient's health. Errors in treatment based on improper patient information can be fatal, and they ranked as the third leading cause of death in the United States in 2016. Ensuring the most up-to-date and correct patient information reaches the hands of their doctor isn't just good practice, it's a life-saving one. 
Protecting patient information also remains a key aspect. Hospitals and other healthcare organizations are now a frequent target of cyber-crime. When a data breach occurs in healthcare, it's often expensive and has the compounding effect of decreasing a patient's trust in the healthcare system to protect their data. A well-run medical records management program can mitigate these risks, guarding your patients' information and your organization's integrity. 
Best Practices for Medical Records Management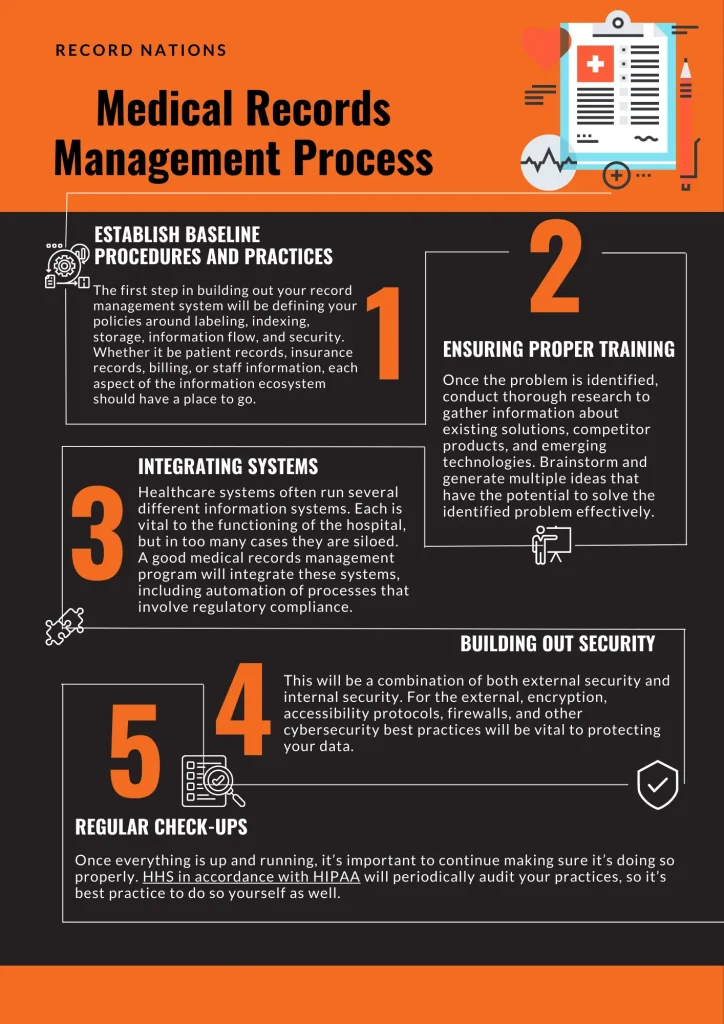 Establishing Baseline Procedures and Practices 
The first step in building out your record management system will be defining your policies around labeling, indexing, storage, information flow, and security. Whether it be patient records, insurance records, billing, or staff information, each aspect of the information ecosystem should have a place to go.
This should be an organization-wide effort. Management and employees should work together to determine how to conduct the record-keeping most efficiently. If done correctly, this can save your doctors, nurses, and other treatment providers valuable time. 
Once you've built out the procedures, you will need to clearly define them and put them down into a written document. HIPAA requires a written record and retention records for 6 years. Update the document if you choose to change the procedures in a way that affects the handling or security of patient information.
Ensuring Proper Training 
You'll need to train your employees on the new processes and procedures. While there might be some hesitancy at first, ensuring buy-in by explaining why the new process matters both for HIPAA compliance and for the protection of your company's data. 
HIPAA requires that each individual whose job includes health records, even tangentially, be trained on how to handle them. In addition, a significant number of data breaches, particularly at small and medium-sized companies, occur through individual security lapses, rather than a system break-in. 
Integrating EHR, EMR, and Other Records Systems
Healthcare systems often run several different information systems. Each is vital to the functioning of the hospital, but in too many cases they are siloed. EHRs meet the meaningful use criteria established by HITECH. 
A good medical records management program will integrate these systems, including automation of processes that involve regulatory compliance. When integrating EHRs and EMRs, healthcare facilities enjoy the seamless sharing of information across departments and enable swift and precise decision-making processes.
This step must be done carefully. State, federal, and local regulations will play a part in how these can be integrated and automated. 
Building Out Rigorous Security Protocols 
The final step of set-up is security. You must know how your new systems will operate and who is responsible for what. Then, you need to build out a rigorous set of security protocols. 
This will be a combination of both external security and internal security. For external threats, encryption, accessibility protocols, firewalls, and other cybersecurity best practices will be vital to protecting your data. 
On the internal end, you'll want to ensure everyone is properly trained in handling data, and trained against malicious actors. While no one loves training, it remains vital to protecting your organization's security. 
Conducting Regular Check-Ups 
Once everything is up and running, it's important to continue making sure it's doing so properly. HHS by HIPAA will periodically audit your practices, so it's best practice to do so yourself as well. 
By examining your practices, you'll be able to determine what's working, what's not, and if there are any security issues that you didn't account for. The best plan is one that's adaptable to reality. So, don't be afraid to make tweaks and change things if they're not functioning as you thought they would. 
Find Your Medical Records Management Solution with Record Nations
Record Nations works with a nationwide network of record management providers who can help your healthcare organization build out a system that meets your specific needs. Give us a call at (866) 385-3706, use the live chat, or fill out the form, and we'll find a local partner for your organization within minutes.