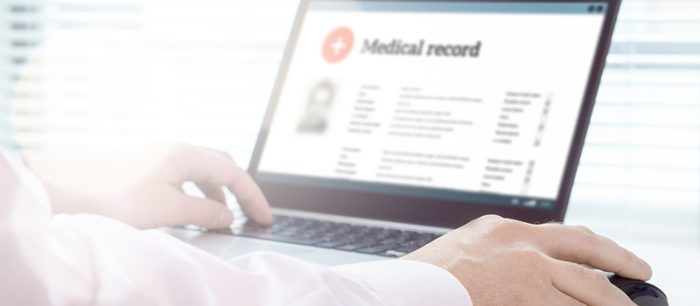 Scanning medical records and taking up a paperless practice offers benefits ranging from saving time to saving money. However, there are plenty more advantages in between, like:
Cutting operating costs
Saving office space
Boosting productivity and saving time
Simplifying record storage
Easily finding and sharing files
Improving security
Ensuring HIPAA compliance
Watch the video or read the transcript below to find out more about the benefits of scanning medical records.
Video Transcript
Cutting Operating Costs
A paperless system for managing medical records can cut multiple operating costs, such as:
Supply Costs
Labor Cost
Space Cost
Common Supply Costs:

Stationery
Printer ink
Office supplies

≈ $55–$75 per employee monthly
$660–$900 per employee annually

Example:
10 employees @ $16.50 per hour;
2 minutes filing records per day =
$5.50 wasted daily
$121 monthly
$1,452 annually
Example:
Five standard filing cabinets = 16.5 square feet;
Average $1.80 per square foot =
$30 spent per month
$360 spent per year
Saving Time While Boosting Productivity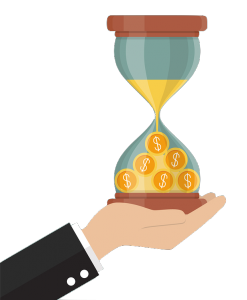 Using digital medical records helps to save time and in turn, improves productivity in several ways:
Space previously used for storage can instead be used for things like extra patient rooms
Record retention tracking systems can be configured to save time and remove record management chores
The time needed to find and re-file records is reduced and process prompts can be used to speed up documentation work
Simplify Storing & Managing Records
Digital medical records take up a fraction of the space paper records do. In turn, this helps to minimize the space needed for storage and the time it takes to sift through, find, and replace records when they're needed.
For example, here's a comparison of the max capacities for different storage types:
Hard Drive
Large File Box
Bankers Box
Shelf Space
Avg. 1 TB drive capacity;
Avg. 321 kB office file size
≈ 3,115,265 files
(L x W x H)
24″ x 15″ x 10″
≈ 4,000–4,500 sheets
(L x W x H)
12″ x 12″ x 10″
≈ 2,000–2,500 sheets
1″ space = 150–200 sheets'
Avg. 5 food shelf = 60″
≈ 9,000–12,000 sheets
In addition to the sheer space and quantity of paper, when it comes to things like medical record retention times for HIPAA an EHR system can also be configured to automate retention tracking and notify you when times are about to expire.
Easily Find, Share, & Distribute Digital Medical Records
Once of the greatest post-scanning advantages is how digital medical records are indexed in electronic storage systems as they're implemented.
File indexing lets you search for and sort filed by name, date created, and other filters. In addition to improved usability, digital medical records can also be easily copied and shared when necessary.
In modern healthcare, this is extremely valuable, as many procedures like surgeries, for example, require records to be shared with multiple healthcare providers or practices.
Save Time Using Patient Portals
Using patient portals lets patients be digitally "seen" without needing to make an appointment or come in, in turn helping to limit operating costs while streamlining workflow. Common uses for patient portals include: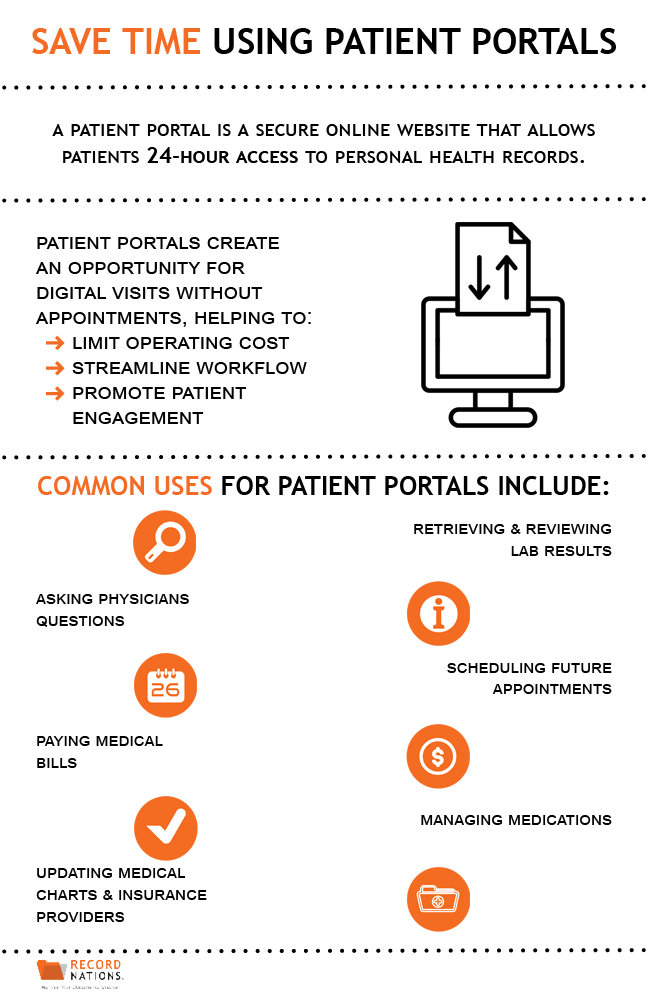 Simplify Implementing Medical Record Securities
EHR systems use several methods for protecting medical records and the sensitive protected health information (PHI) they contain.
Encryption
Encryption tools are used to protect files by encoding medical records so that even if there's a breach, a decryption code is still required for access.
Tiered Access Controls
To build on basic encryption protections, tiered access controls can be used to require multiple decryption keys for sensitive information.
Ensuring HIPAA Compliance
There are multiple requirements for HIPAA compliance, namely medical record retention and the protection of the patient information itself.
A combination of medical record scanning's other benefits ensures HIPAA is covered as well. With the ability to set up automated retention tracking, along with the protection of an EHR system's securities, HIPAA compliance is built into the medical record scanning process.
Have Medical Records to Scan?
Record Nations can help you find the best scanning provider for your needs through our nationwide network of secure scanning service partners. To get started, fill out our form or give us a call at (866) 385-3706 for a free, no-obligation quote from providers in your area.