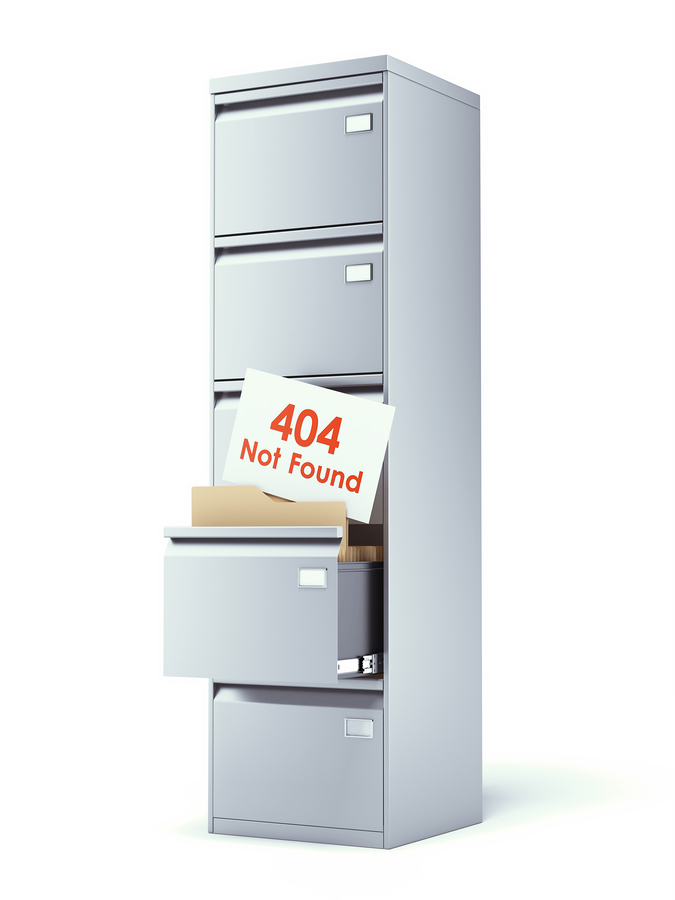 Document and records storage is something that every company needs to manage.  Whether it's daily, weekly or monthly, there are always documents that need to be filed, stored, and managed on a regular basis.
If it takes you 15 minutes to find one important document in your current filing system, there might be some problems, and it might be time to make some changes.
By implementing some or all of these tips, you're taking a step in the right direction to help reduce the time it takes to find and organize the documents and records in your office.
Tip #1: Clearly define your documents & records
Determining what each file is and how they pertain to each part of the business is an important step to optimizing your document (or records) storage.  It helps determine what files are critical and might need to be accessed immediately, and what files should be archived or stored off-site.
We go into more detail on the differences here, but a record is usually defined as information that is stored for a set period for regulatory, legal, or business reasons, while a document is something that is important to business or some part of the business.  Creating a classification system will help you organize your documents and help with the next step- a records retention and destruction schedule.
Tip #2: Get organized- and on schedule
Certain records and information have to be retained for a set amount of time- usually based on federal, state, and local laws, or regulatory, legal and business reasons for your industry.
Keeping a document retention and destruction schedule that lists what documents should be retained and when documents need to be destroyed helps prepare your office for a costly audit or any legal action.  It also helps your employees find important files easier and faster.
Tip #3: Purge unimportant documents
Purging documents that aren't critical to the business is one of the best ways to help de-clutter your file room.  Once you have a solid retention and destruction plan, you need to define what documents are not important to your business- and destroy them.  This frees up important file space and helps keep your office from compiling a mountain of paper that no one will ever need again.
Tip #4 Store your files off site
Offsite records storage is one of the easiest ways to help optimize your filing systems.  It allows you to organize your processes and office space more efficiently by storing files that you might need to retain, but don't need to access regularly.  This is a great way to store any archival or historical documents and records in a safe and secure facility where you can access these documents at any time.
Just storing your documents offsite might not be enough- although it is a safe and secure way to store your important files, you might want to consider using a document and records management company that helps you automate and maintain your offsite storage.
Tip #5 Hire a Record Storage Management Service
Records management companies take offsite document storage to the next level.  Not only do they work with your to provide the type of document management that fits into your retention and destruction schedule, they give you the ability to access or store documents regularly- and can even come and pick them up for you!
A records management service also helps to eliminate security concerns and risks.  Not only are you documents handled with the proper chain of custody procedures, they also reduce the need for added security measures at your office and for transportation of critical documents.
Choosing the right facility and service that fits your needs and requirements can be difficult- but our experts can help you find the right local company that can provide the level of service and security for your business.
Let Record Nations help you with Offsite Record Storage
Information governance is an ever changing field as federal and state laws require more retention and faster discovery. Our experts will help you maintain your records storage needs regardless of format.  We can help you manage your hard-copy records, and even guide you through the transition to a paperless office.
Our experts offer offsite records storage, document management services, and even document destruction across the United States.  If you have any questions, please fill out the form to the right, or give us a call at (866) 385-3706.  Within minutes of receiving your request, you will have free quotes from experts in your area that can help you.