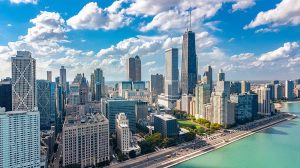 If you're looking to convert to a paperless office, hiring a Document scanning service should be a critical part of your document migration. Record Nations Chicago has a local document scanning service provider to work on your project. Our document scanning services include indexing and document conversion.
Give us a call at (312) 267-0571 or fill out the form, and we can help you find the best option for your scanning project. 
How Record Nations Chicago's Document Scanning Services Work
Our Network of scanning professionals offers accurate, high-quality, consistent images and files for your scanning project. It's important to hire a document scanning service in Chicago that can scan and index your documents quickly for a reasonable price.
Our experts handle all kinds and sizes of documents, drawings, or schematics. If you're concerned with security or don't want to leave your office we also offer mobile scanning services.
Here are the steps we take to assist you with your scanning project:
First, we remove any bindings on your documents and prepare them for scanning.
Do you need single or double-sided documents scanned? No problem- we'll convert them to digital images.
We also offer indexing for every page or for entire documents to make them easier to find in your electronic document management system.
OCR services convert your documents to editable text that can be modified later- giving you the ability to change them at will.
Once the document conversion is complete, we will deliver your new digital files on the medium that you choose- CDs, DVDs, or even to a Cloud Storage Service.
If you have more to do than what we mentioned above, we can create a customized quote for your project – when you submit a FREE quote or talk to one of our experts, be sure to mention any special considerations for your project.
How to Count the Number of Documents You Have For Your Chicago Scanning Project
If you have your files in standard bankers boxes (12.5′"W x 15.5′"D x 10.5′"H), you can fit 2,000 to 2,500 sheets of paper in each box depending on the thickness of the paper and file folders you have. Large file boxes (15′"W x 24′"D x 10.5′"H) can hold 4000 to 4500 sheets of paper.
You can also estimate the number of pages/boxes you have on a shelf. On average, you can figure that you'll have around 150 to 200 sheets per inch of space on your shelf or in your cabinet.
If your documents are packed loosely, you need one standard banker's box for every 13" to 16" of space on your shelves. If you can't fit one more piece of paper on your shelf, you should need one standard banker's box for every 10" to 12" of space.
Although this is an approximate number, it will give you an idea of how many boxes you have and how many sheets you need to scan.
Document scanning companies usually charge by the page for their services. Most prices range from 7-12 cents per page depending on where you're located, volume, and who you select for your project. You also want to factor in what you want to do with your documents after they're scanned.
The quote on your project is determined by several things:
Are you looking for a certain type of scanning? (ocr, redaction, indexed, non-indexed)?
What is the timeframes you are targeting to start or complete the project?
How many pages do you need to scan- are they double-sided?
If you have a specific system you need to use to manage these documents, it affects the overall cost depending on the file types and specific requirements for that system.
These are just a few of the questions our experts ask when you contact us to make sure you get the service you need. To make sure you get what you need, be sure to ask for a customized quote from multiple document scanning companies for your project.
Price per page is just one aspect of the project- other requirements can change the price significantly.
Contact us for a FREE Quote on Document Scanning Services in Chicago today!
Record Nations Chicago has decades of experience in document scanning and document management. To get started with your scanning project anywhere in Chicago today, fill out the form on the page, or give us a call at (312) 267-0571.
Within minutes of receiving your request, you will receive free, non-obligatory quotes to help you select the contractor that fits your situation and your office best.
Record Nations Chicago Location
Record Nations Chicago
120 W Madison St #510
Chicago, IL 60602
(312) 267-0571
chicago@recordnations.com
Our normal operating hours are Monday-Friday from 8:00 AM to 5:00 PM

Record Nations Chicago proudly serves these cities and counties throughout the Chicago area:
Addison | Arlington Heights | Aurora | Bolingbrook | Carol Stream | DeKalb | Des Plaines | Downers Grove | Elgin | Evanston | Gary | Glenview | Gurnee | Joliet | La Grange | Kenosha | Michigan City | Mount Prospect | Naperville | Northbrook | Palatine | Schaumburg | Waukegan and More!