Document scanning is a critical part of transforming your office to a paperless system. Scanning will make sure all of your paper documents and records will now be accessible online. This will help you to dispose of those paper files and in turn become a greener company by using less paper.
Our professionals are experienced with document scanning and help you tackle any size scanning project you may have.
We will help you find a contractor and a service that works best for your business; rest assured that the contractors will help you every step of the way.
To get started on a scanning project please give us a call at (251) 378-2934 or fill out the form. To learn more about scanning please read further.
How Record Nations Mobile Document Scanning Services Work
Our scanning services offered through local contractors in Mobile offers quick and affordable scanning prices including indexing.
We offer more than just a one-time job by offering reoccurring scanning jobs for your business. Our providers use state of the art technology to complete your scanning project so that you and your employees can manage your documents better.
Here is what our local experts can help you manage:
Our experts remove all bindings and staples to make sure the documents are ready to be scanned.
Can handle scanning double sided documents as long as they know which side goes first.
We can index select pages or the entire document
We also offer an OCR Service to give you the ability to edit your documents.
Finally, once the scanning process is complete we will supply you with your digital files by your choice of media.
How Much Do Scanning Services in Mobile Cost?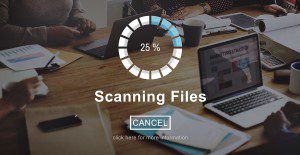 On average with the industry, document scanning pages cost anywhere from $0.07-$.12 cents per page. Although this price is not set in stone until you are given a price quote from one of our contractors for your specific project.
The prices can fluctuate depending upon how much scanning you have, special requests, the services requested as well as your location. These prices are just estimates and can change.
The estimate of your project depends on:
They type of scanning you are looking for?
The number of pages you need scanned?
The time frame for the project from start to finish.
The current system you have and the compatibility of your documents with the current system.
After your documents are scanned don't forget that we offer secure document shredding and electronic media destruction to properly dispose of the documents and records your business no longer needs.
Get Free Quotes on Document Scanning Services in Mobile
Record Nations Mobile offers expert professionals in the scanning industry to help you complete any project that you may have. To get started with a scanning project today give us a call at (251) 378-2934 or fill out the form.
We will reach out to after you submit your request to provide you with a free service quote from a local contractor who can help you complete your project.
Record Nations Mobile Location
Record Nations Mobile
6300 Grelot Rd
Mobile, AL 36609
(251) 378-2934
mobile@recordnations.com
Our normal operating hours are Monday-Friday from 9:00 AM to 6:00 PM, and Saturday from 10:00 AM to 3:00 PM
Record Nations proudly serves these cities throughout the Mobile, AL area:
Axis | Bellview | Brent | Calvert | Daphne | Ensley | Fairhope | Ferry Pass | Gautier | Hurley | Moss Point | Myrtle Grove | Ocean Springs | Pascagoula | Prichard | Saraland | Silverhill | Theodore | Vinegar Bend | Warrington | West Pensacola