The initial step in most document management plans deals with some form of document scanning. Whether your business is looking for a hybrid system of both physical and digital files, or if you're going completely paperless, scanning services help you get there.
Scanning services are often more cost-effective over time because you don't have to use your own employee time and labor. Professional service providers offer years of industry experience and know the best techniques and strategies to the process runs smoothly is organized and efficient.
We will help you find a local provider who offers the exact combination of services you need at a fair price.
If you don't see what you are looking for here, take a moment to fill out the form or call us at (850) 909-3001.
How Document Scanning Services Work in Tallahassee
Our scanning services are comprehensive and flexible. We value accuracy, quality, and consistency in every scanning project, and will index and scan according to your rules and needs.
Whether you need to accomplish a large, one-time scanning project or are in need of long-term, regular scanning services, our Leon County contractors can help. With state of the art equipment and time tested techniques, you can be sure our scanning efforts will provide a clean and consistent result.
How Our Tallahassee Professionals Can Help with Your Scanning Project:
The remove clips and binders to prep your documents for scanning
They offer flexible indexing, whether you need every page indexed or want compact files
They scan double-sided documents easily—just let us know which side goes first
Redactions services and editable text is available through OCR software
Your digital files can be delivered in whatever format you need
Custom services are available, just give us the details when you submit a quote request
How Much Do Document Scanning Services Cost in Tallahassee?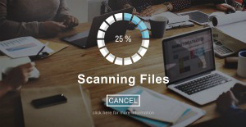 The average price of scanning one page is 7-12 cents, but that estimate depends on where you are located, how much you have to scan, and whether or not you require special or additional services.
We recommend getting several quotes before you commit to one provider. This ensure you are getting a fair and accurate price.
Determining the base price will help give you a better understanding of what to expect. Use these guidelines to get in the general ballpark of the price for your scanning project:
Factors that Influence the Price of a Scanning Project:
The number of pages you have to scan
The date you want your project completed by
The type of scanning you require (OCR, redaction, indexed, non-indexed)
Your current systems and if you need your new files to integrate
There is also the matter of what to do with your documents after you scan them. Some businesses like to keep the original physical copies, others are ready to destroy them. Either way, we can connect you to a secure offsite storage provider or document destruction company in your area.
Get Free Quotes on Document Scanning Services in Leon County
Document scanning may be the first step in your office's transition to a more productive workplace. We are here to help you get there. Let us connect you with our Tallahassee based document scanning partners and we will get you free quotes on their services.
Call us at (850) 909-3001 or fill out the form to get started. Within minutes we will connect you with several local providers.
Record Nations Tallahassee Location
Record Nations Tallahassee
3551 Blairstone Rd Ste 105
Tallahassee, FL 32301
(850) 909-3001
tallahassee@recordnations.com
Our hours of operation are Monday-Friday 7:00 AM to 7:00 PM and Saturday 9:00 AM to 5:00 PM.
Record Nations is proud to service Tallahassee and these nearby cities:
Bradfordville | Capitola | Capps | Centerville | Cody | Felkel | Fort Braden | Greensboro | Gretna | Havana | Hillardville | Hinson | Lloyd | Meridian | Miccosukee | Midway | Perkins | Quincy | Sawdust | Scotland | Wakulla Springs | Wetumpka | Woodville