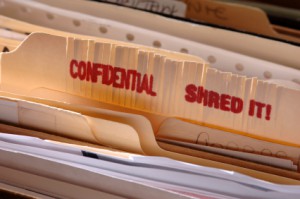 It's important for companies and organizations to have an effective plan for organizing and managing their documents. However, it's just as critical for a document management plan to give consideration to how records are disposed and destroyed. Document shredding helps businesses to maintain effective security for their sensitive information throughout its life cycle.
Threats like data breaches wreak havoc on workflow and infrastructure, and if a document management plan hopes to keep things working smoothly, security for documents from their creation to the final moment of their destruction is crucially important.
Incorporating document shredding processes into the larger scope of document management plans ensures that while document inventories grow and are added to over time, the risks for the stored company information being stolen aren't similarly increasing as well.
Why All Document Management Plans End with Shredding
In order to maintain an efficient and organized workflow, all companies need to have well-established processes in place to manage the thousands of documents businesses create, use, store, and eventually dispose.
One of the largest contributors to data breach incidents stems from human error while handling and disposing records. By integrating document management plans however, companies are able significantly reduce this risk for their documents, records, and other files putting them in harm's way by developing better ways to track their information.
Typically there's seven main components to solid document management plans:
Taking a complete inventory of all company documents
Determining who is responsible for managing the process
Developing a document retention policy
Evaluating the best method for storing and managing records
Establishing proper document management procedures
Integrating a disaster recovery plan
Implementing a document destruction process for unnecessary files and records that have passed retention periods
Above all, one of the most crucial elements to a document management plan lies in its final step—document destruction.
While having a well-maintained program for managing records is essential for ensuring the security of documents when they're still in use, proper document destruction also plays a critical role in the documents' security, as old and discarded documents pose just as much a risk for data breaches as do active files.
Integrating document destruction and shredding processes as the final piece to the document management puzzle is one of the best ways businesses can ensure sensitive or proprietary information remains protected throughout the entirety of its life-cycle.
With the costly fines and liabilities associated with data breaches as additional considerations to keep in mind, it's more important than ever for business owners to emphasize proper document destruction.
By taking the preventative steps to ensure discarded documents are properly destroyed once it's no longer needed, companies can feel more assured their sensitive information won't jeopardize their business.
How to Integrate Document Destruction with Document Management
While critically important, document destruction processes aren't difficult to implement.
Whether a company uses document scanning to convert paper documents to digital copies for electronic management, or instead uses off site storage to manage hard-copy records, document destruction processes can be easily integrated into the management process.
Companies even have a variety of shredding and document destruction options they can choose from for their document management plans such as mobile, off site, and electronic media shredding services. Many of these services can be implemented on an ongoing basis or for an information purge, and also have flexible pricing options to best meet the budgetary needs.
Here are just a few of the ways shredding services are often implemented in document management plans:
Shredding After Scanning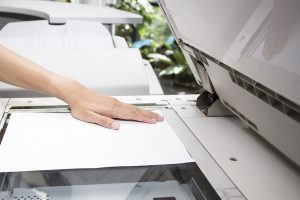 With the capabilities digital technologies have shown for boosting workplace productivity, an increasing number of companies are adopting electronic options for managing their documents and files.
Despite making the digital leap and integrating electronic document management systems (DMS) or cloud storage, businesses nevertheless still need to deal with paper on a regular basis—and after scanning an entire record inventory, have an especially large number of documents to now destroy.
Furthermore, when new paper documents are created, businesses using digital strategies for their document management plan use day-forward scanning to take these paper documents and immediately add their electronic copies to the existing records inventory.
Like making the initial transition to electronic document management systems, day-forward scanning creates a daily stream of now unnecessary documents—which is where document destruction comes into the document management process.
Each time a new document is scanned into the system, the old paper document is then shredded to both clear paper clutter and eliminate any risks for an unprotected duplicate file to be compromised.
Whether it's by setting up an ongoing document destruction service for day-forward scanning or scheduling to destroy a recently scanned document inventory, companies can maintain their security throughout their life cycle while still efficiently managing their records.
Document Destruction for Old or Inactive Files Stored Off Site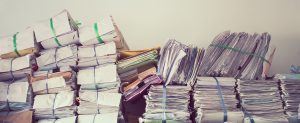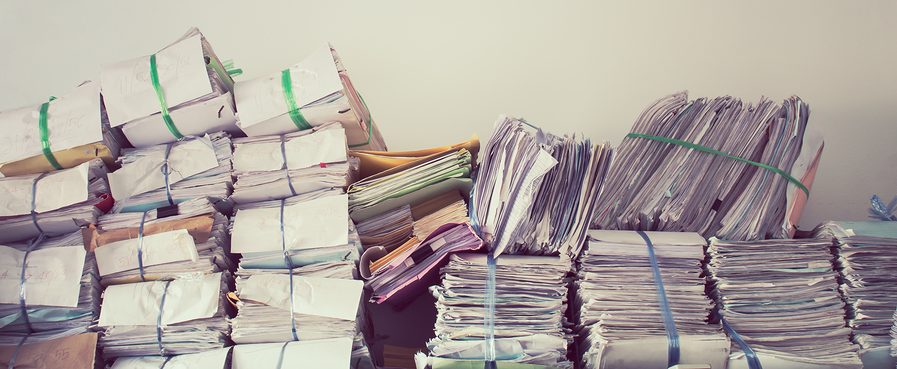 Another common application for document destruction in management plans is when companies store and archive hard-copy documents out of consideration for document retention laws and guidelines.
From contracts and administrative paperwork, to legal documents and financial records, a range of files often need to be kept for years, however, when inactive or old records pass their individual retention period, they enter the final step in the document management plan and need to be securely shredded.
When companies use off site storage, a primary reason for destroying these now unnecessary records is the fact that every foot of office space costs money, and using document destruction services helps to cut storage costs.
Besides more practical reasons though, like with duplicate paper copies from document scanning, old and no longer needed records stored off site also need document destruction for the additional security risks they pose.
Keeping unnecessary documents past their retention periods does nothing more than boost the chances for a leaked piece of sensitive information to come back and bite the company, which is why when it comes to inactive files and old records stored off site, businesses generally stick to a "once you're done with it, shred it" policy.
Need a Secure Option for Disposing Documents? Get Free Quotes on Document Destruction Services in Your Area!
Whether developing a new plan, or revising an existing document management plan, it's important to give consideration to every step in the document life cycle—including its eventual destruction.
At Record Nations, we partner with a nationwide network of records storage and document shredding services, helping companies to integrate effective document management plans for both maintaining efficient workflow for records and keeping confidential information secure.
For more information on document destruction or to get quotes for any of our available services, just give us a call today at (866) 385-3706 or fill out the form at the right of your screen to get a list of free and competitive quotes from providers near you.
Additional Resources
Businesses have a variety of options available to them for storing and managing documents and records, however some strategies and services may be better suited for some businesses more so than others. This article takes a closer look at how different document storage methods today are helping companies to better manage common document storage issues like space and security.