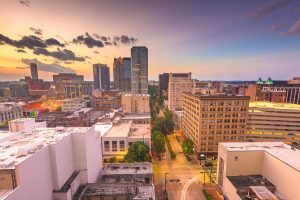 Choosing the right medical record scanning or medical record storage provider is a very important task. It is important to find a secure management company that will provide quality, accuracy, and consistent results.  
Record Nations Birmingham offers full-service record scanning and storage for any business. Our record experts can store a large volume of documents easily and give you access whenever you need it. 
Preparing Medical Records for Scanning in Birmingham
Record Nations Birmingham ensures all medical record scanning is compliant with HIPAA, reflecting patient confidentiality and the proper handling of medical records.
Follow these easy steps to get started with medical record scanning today:
Fill out the form or call us at (205) 677-3873.
Make sure you include the number of records needing to be scanned and the level of detail you will need to maintain those records.
Local scanning contractors will contact you right away with personalized quotes for your project.
Select the contractor that best aligns with your needs.
Medical Records Storage Services
There are many benefits to offsite medical record storage. It will allow you to free up office space which will increase productivity. Storing records properly will ensure they are not lost, stolen, or damaged. 
Medical Records Custodian
Custodians of medical records can store physical copies in a secure storage facility or scan the documents and store them electronically using an EMR system. With either option, patient records must be readily available upon request. Failure to produce forms could result in fines or penalties.
Using a medical custodian takes the liability off of you or your practice. Hiring a company to manage your facility's medical records ensures you will remain in compliance and your past patients will continue to receive care and support. 
Get Free, No-Obligation Quotes on Medical Record Scanning and Storage in Birmingham
To get started, call us at (205) 677-3873 or fill out the form on this page.
Record Nations Birmingham Location
Record Nations Birmingham
260 W Valley Ave
Birmingham, AL 35209
(205) 677-3873
birmingham@recordnations.com
Our operating hours are Monday-Friday from 8:30 AM to 5:00 PM and Saturday from 8:30 AM to 3:00 PM.
Record Nations proudly serves these cities near the Birmingham area:
Auburn | Bessemer | Harvest | Homewood | Hoover | Leads | Madison | Rainbow City | Trussville | Tuscaloosa | Vincent | Warrior