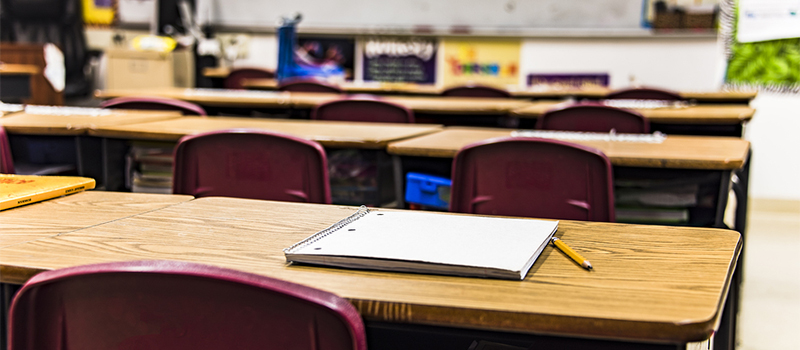 The Family Educational Rights and Privacy Act (FERPA) is a federal law that protects the privacy of student records by prohibiting schools from disclosing the personally identifiable information in student education records.
FERPA was enacted in 1974, and applies to all schools that receive funds from an applicable program of the U.S. Department of Education.
Watch the video or read the transcript below to find out more about FERPA and how you can stay compliant.
Video Transcription
What Is a Student Education Record?
According to FERPA, student education records are defined as the "records, files, documents, and other materials which (1) contain information directly related to a student; and (2) are maintained by an educational agency or institution or by a person acting for such agency or institution."
Types of Student Records
There is a range of student education record types, including:
Financial information
Disciplinary files
All personal information
Student course history
Student transcripts
Immunization & health records
Ensuring You're FERPA Compliant
To be sure you're staying compliant with FERPA, there are multiple factors to keep in mind. Things such as compliance requirements, record retention, as well as penalties for FERPA noncompliance.
How Long Should Student Records Be Kept?
According to FERPA, there's no formal retention time for student records. There are, however, many state laws that set retention restrictions.
As a general rule of thumb, schools should keep temporary student information like attendance records for at least 5 years after a student no longer attends. Permanent records should be kept for at least 60 years.
When Student Records Can Be Shared
FERPA's main purpose is to protect the privacy of student records and information, but there are some exceptions for who they can be shared with, including:
School officials with legitimate educational interest
Other schools to which a student is transferring
Specified officials for audit or evaluation purposes
Parties in connection with student financial aid
Accrediting organizations
Officials in cases of health and safety emergencies
State and local authorities within a juvenile justice system, pursuant to specific state law
Consequences of FERPA Noncompliance
When schools, school districts, and other education agencies and institutions fail to comply with FERPA, they will lose their funding from the Department of Education.
Depending on individual state guidelines, there may be additional penalties for improper disclosure or misuse of student education records.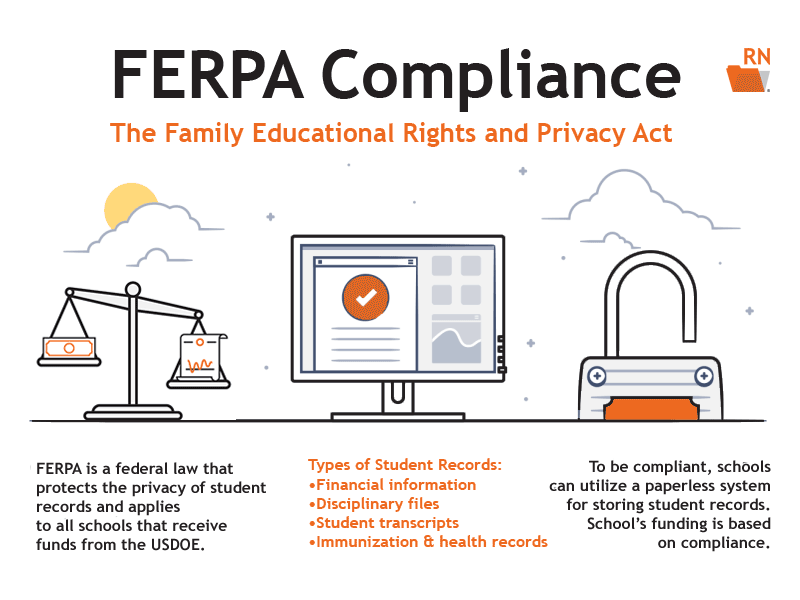 Create Your Student Record Management Strategy
The average class of 30 students will use 830 sheets of paper per student per year. This means schools with 100 teachers or 3,000 students will use roughly 250,000 sheets per year.
With student records being produced that quickly, it's critical that they're well-managed. In turn making it valuable to consider implementing a paperless student records management strategy.
Scanning Student Education Records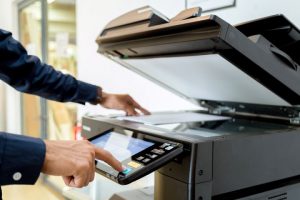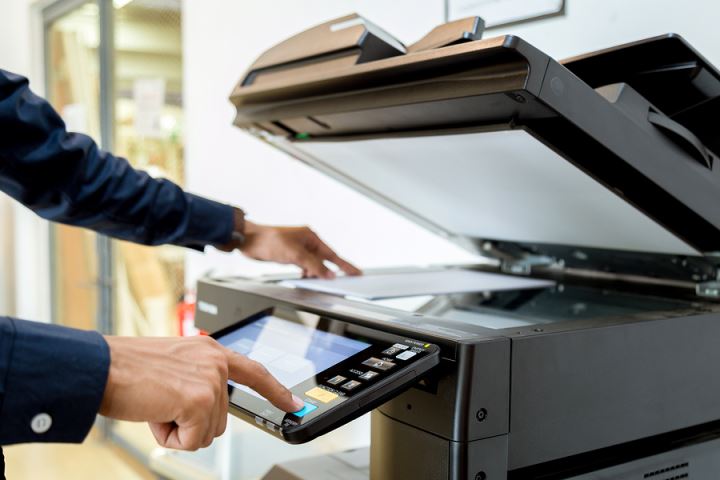 To streamline management and simplify tracking their storage, backfile scanning can be used to convert existing student education records. Conversely, day-forward scanning can be used to convert new ones as soon as they're created.
Compared to paper copies, digital students records take up a fraction of the space.
When records are scanned and implemented into a digital system, they're indexed using optical character recognition (OCR) to keep student record management organized in the short-term.
Storing & Managing Electronic Student Records
After they're scanned, student education records are uploaded with a cloud storage system or document management system (DMS) software.
When indexing is used, cloud or document storage software allows you to sort and search for files by name, date, and other filters. Furthermore, with OCR, the new files can be edited after scanning.
In the long-term, another benefit of using a DMS is its ability to track retention. Although 60 years is a long time, this benefit will eventually come in handy.
Interested In Learning More About Paperless Student Records?
Join the school districts and other organizations that have used Record Nations to find the best scanning and storage services for their student records needs by contacting us today. For a free no-obligation quote from providers near you, fill out the form, give us a call at (866) 385-3706, or contact us directly using our live chat.